Solutions and tips for LENOVO IDEATAB A3000 tablet problems.  This is 7 inches tablet from Lenovo who have 3G GSM data connections. The processor from LENOVO IDEATAB A3000 have Quad Core with 1.2 Ghz Cortex A7, to support more power for running Android applications, this tablet have 1GB RAM, big enough to run almost all applications and run several multitasking work. The main internal memory is 16 GB but of course we can add more storage by insert maximum 64 GB micro SD memory card. Battery for LENOVO IDEATAB A3000 is not too big but enough for daily usage without need to charge more than 2 times a day. But please note that battery usage are vary for each users, depend on what applications running and also how many time we use the LCD screen on.
What is Advantage of LENOVO IDEATAB A3000 Specifications:
GSM 3G HSDPA (some type have dual sim GSM Slot)
LCD 7 inches touch screen
Internal memory 16 GB
RAM 1GB
External memory microSD, up to 64 GB
Main Camera 5 MP, 2592х1936 pixels, autofocus
Front camera for VGA for Picture and Video conference
Processor Quad-core 1.2 GHz Cortex-A7
GPU PowerVR SGX544
Operating system Android OS, v4.1 (Jelly Bean) can be ugprade to to v4.2 (Jelly Bean)
Battery Li-Ion 3500 mAh
How to Fix or Problem Solving for Recovery LENOVO IDEATAB A3000 hang or not responding or malfunctions or stuck or freezing or bricked ?
With the good processor at LENOVO IDEATAB A3000, we can run almost all applications from Google Play Store. Because this tablet have Quad Core processor and also have 1GB RAM. But some applications maybe not design for tablet or some applications by default will not appear in Google Play Store when we search by using LENOVO IDEATAB A3000. This situation happen because there are some applications which only run for less than 5 inches LCD screen, that is why that kind of app will not appear. But some user sometime force to install unsupported applications at LENOVO IDEATAB A3000 by download the manual APK files, and force install offline to LENOVO IDEATAB A3000. This could make our tablet become problem such as hang or stuck or bricks or frozen or LCD touch screen not responding. To fix this problem, we can try to remove the suspected applications and do soft reset or restart or reboot. This soft reset will help deleting some temporary files or cache. If the problem still happen after doing soft reset, please try to do hard reset or master format.
How to Soft Reset or Reboot or Restart LENOVO IDEATAB A3000  ?
This LENOVO IDEATAB A3000 tablet does not have removable battery, that's why we can not open the back cover to do soft reset or restart or reboot. What should we do if LENOVO IDEATAB A3000 hang or stuck in the middle of applications? LENOVO IDEATAB A3000 already have soft reset small hole button near GSM SIM CARD slot. We can press that button to do soft reset or reboot the tablet while stuck or frozen. This step will not remove any important data at LENOVO IDEATAB A3000, this is only on off or force shutdown procedure. Other common alternative to do soft reset or reboot or restart when the tablet still can access the menu, press and hold the Power button for several second, then LENOVO IDEATAB A3000 will show the pop-up menu to give option for Reboot the phone. Choose restart/reboot than theLENOVO IDEATAB A3000 will do the soft reset or restart.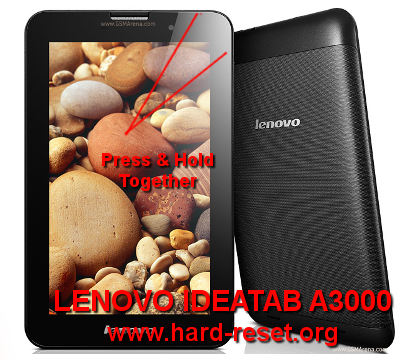 How to Hard Reset LENOVO IDEATAB A3000 with Hardware Button key:
Confirm and make sure that LENOVO IDEATAB A3000 Battery is fully charge or not empty
Turn off LENOVO IDEATAB A3000
Press together : POWER + VOLUME UP about several second, that the warning will appear at the LENOVO IDEATAB A3000
At LCD will appear Select Boot Mode]
Choose Recovery Mode (using VOLUME DOWN button)
Wait several second until Android logo appear
Continue to press POWER BUTTON to display the Menu
Choose: Reset Device or Wipe data or Clear eMMC 
Make sure we already sure than we know that our application and data will be loose or clear while Resetting LENOVO IDEATAB A3000
How to Restore and Reinstall Clean Android Operating system / firmware at LENOVO IDEATAB A3000 ?
When the first time we unboxing LENOVO IDEATAB A3000 tablet, the operating system use Android Jelly Bean v4.1. The factory default file source of clean Android operating system for firmware already saved inside LENOVO IDEATAB A3000 ROM. When we get problem with this tablet and find the operating system damage, we can easily doing reinstall or restore the clean factory default Android operating system by doing hard reset step above. Anyone can do this easy step. Please remember, doing hard reset or master format or reinstall the operating system will make all important data remove or wipe. Make sure we already backup all important data before doing reinstall. We also suggest to remove microSD card while doing format or reinstall for security reason.
How to Unlock or Fix or Bypass or Solutions for LLENOVO IDEATAB A3000 forgot password code or security lock screen pattern or pin (lost password)?
Like other smartphone or table, this LENOVO IDEATAB A3000 can keep many important data or picture or movie or anything inside memory whether internal or external. Someone can easily look or stole our important data if the tablet away from us. Having said that, we need to give security protection like screen lock pattern or password pin protections. What do we have to do if we forget the answer of security protection? Some user maybe get problem with forgot security protections or forgot password. Do not worry, because Android have bypass procedure for forgotten password or screen lock pattern. Please try to give wrong answer several time at screen pattern or password field until the tablet frozen or locked for several seconds. In this moment, we will see Forget Password / Pattern button to bypass the forgotten password security protection by answer Google account or Gmail username and password. If we still can not access the Google account, then we need to do hard reset or master format.
How to Improve Performance LENOVO IDEATAB A3000 to make run more faster?
In normal situations, we can run almost all application faster with LENOVO IDEATAB A3000. The applications can be downlaod from Google Play Store or installed offline using APK. But some users feel that their LENOVO IDEATAB A3000 are becoming increasingly slow in working for daily job. After we look and find out that problem, the main causes usually happen because that user installed too many applications that some of them run in the background without any notifications. Of course the speed will become slower then before. So, try to reduce the installed applications, and keep only daily use applications. If we want to make LENOVO IDEATAB A3000 performance back to faster again, then we may consider to perform hard reset or master format.
Is That Any Secret Code for Doing Format LENOVO IDEATAB A3000?
There is no secret hidden code for LENOVO IDEATAB A3000 to make it back to factory default. Do the options above to hard reset it.
How to Change or Remove or Replace LENOVO IDEATAB A3000 Battery ?
LENOVO IDEATAB A3000 battery is non removable, so we can not easily open the back case and remove the battery easily. If we need to remove or replace the battery because the capacity become reduce or too old, than we need special tools to open this tablet, but we always recommended users to bring LENOVO IDEATAB A3000 to authorize service center to get their professional help for our battery problem.
Latest hard-reset.org Discussions & Share Information:
[Q] Hi.
My lenovo ideatab a3000 cannot done with hard/soft reset button method. Before that i'm trying to reset my data bt using hard reset method, then it got stuck on the middle of process although the formatting process already complete. When i'm tried the same method, its not working!!! Almost 12hours its just like this! Help me!!!
[A] Hi, usually if the hard reset process was interrupted before finish, then yor Lenovo A3000 tablet will not work properly. Please bring to Lenovo authorized service center for flash with correct program at their computer.

[Q] Hi; my lenovo idea tab has stopped reading flash drives when inserted even when using file manager, It won't even read the internal SD card, can you advise me what to do please.
[A] Hi, if your Lenovo A3000 battery is near to empty, then your table will not work properly to read flash drive. Please make sure you have charge full the battery. If the battery already full, but still can not read, then please try to replace or test with other flash drive.

The information from this page describe about lenovo a3000 hard reset,hard reset lenovo a3000,lenovo a3000 recovery mode,lenovo a3500 hard reset,reset lenovo a3000,How to Hard Reset lenovo a3000,how to format lenovo tablet,lenovo ideatab a3000 hard reset,lenovo a3000 reset,cara hard reset lenovo a3000. If you need another resource for hard reset, use search function at this homepage or find from our related posts.