Nokia Asha 310 & 311 are similiar smartphone from Nokia. Now we talk about tips and help to using these smartphone. Nokia Asha 310 & 311 is smartphone from Nokia with Symbian S40 operating system. Nokia Asha 311 also known as Nokia Asha 311 RM-714 or Nokia Asha Charme 311. But all same products. Since the product is almost the same, then How to Fix these kind of smartphone (Nokia Asha 310 & 311) will be the same.
The basic main specifications of Nokia Asha 311:
GSM single sim card (Nokia Asha 311)
GSM Dual sim card (Nokia Asha 310)
Processor 1Ghz
Operating Sytem Symbian S40
LCD 3 inch capacitive with Gorilla Glass
Internal Memory 140MB+256MB
RAM 128mb ROM
Camera 3MP.
Battery Li-Ion 1110 mAh
Nokia segmented the product of Asha with 2 classes, one with full querty and the other using full touch screen. Nokia Asha 311 is the basic Nokia smartphone with full touch screen. For make the navigation of Nokia Asha 311 become better than it already have capacitive touch screen, of course it is better than the previous resistive touch screen. Nokia also use strong glass layer for Nokia Asha 311 with Corning Gorilla Glass.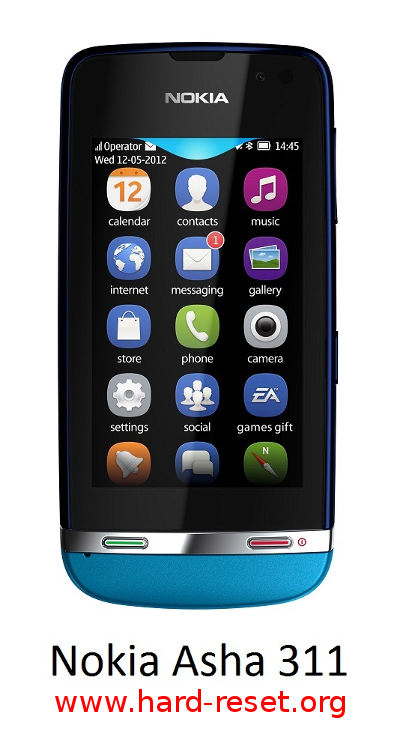 How to Hard Reset to Factory Default Nokia Asha 311 with Master Reset?
Like other smartphone which using smart operating system, Nokia Asha 311 can be install with any application which is support to the operating sytem, but sometime the application can make the Nokia Asha 311 become stuck / freezing / hang / not responsive / slow. For this bad situation, the Nokia Asha 311 sometime need to be format to factory default or master reset.
Please always Remember, while doing Master Reset Nokia Asha 311 to factory default, the data will be loose, that's why we can do backup all data or important stuff at Nokia Asha 311.
#Option 1, Hard Reset Nokia Asha 310 & 311 with menu setting:
Make sure the Nokia Asha 311 on and standby
Go to menu Setting, then choose restore factory setting  > settings only
It will ask security code, input default security code of Nokia Asha 311 : 12345
#Option 2, Hard Reset Nokia Asha 310 & 311 with special code / master key / shortcut / secret key :
Try to type: *#7370# and it will ask the security code of Nokia Asha 311, press 12345
You also can try type:  *#7380#
#Option 3, Soft Reset Nokia Asha 310 & 311 with special key code :
Please take attention, this option is for soft reset, so Nokia Asha 311 will not removing any important data and installed applications. How soft reset Nokia Asha 311 work: It will recopy or restore the default copy of .ini to Nokia Asha 311.
Type in the phone : *#7780#
How to Flashing or Unlock my Nokia Asha 310 & 311?
It is depend on what happen with Nokia Asha 311. The above options to hard reset is get the same result as Flashing Nokia Asha 311. If you forgot the security password code, to unlock the security password code you have to bring to nearest Nokia Service Center in your location. If you have other option to unlock without go to service center, then please let us know.
Latest hard-reset.org Discussions & Share Information:
[Q] hi dear sir , my problem is that when i on my nokia asha 310 then it turns off atumatically without insersting simcard ,whats the problem plzz give me any suggesstion thnx,…
[A] Hi, you can try to reformat to factory default first while your Nokia Asha 310 still can boot properly and please do not insert any simcard at this moment, because it will boot again when you insert simcard. After finish reformat, then you can try to insert the simcard. The seconds possibilities is try to use different simcard to make sure your simcard is not the trouble maker.

[Q] hi my phone keeps on resetting when ever i turn it on, i tried to format it using volume + and – and power button, but it not work,
[A] Hi, at this time you should bring your Nokia Asha 310 to Nokia authorize service center, it seems that your phone get hardware trouble.

The information from this page describe about nokia 311 hard reset,hard reset nokia 311,how to format nokia asha 311,nokia asha 311 factory reset code,nokia asha 311 format code,nokia asha 311 security code,how to reset nokia asha 311,nokia 311 reset code,how to hard reset nokia 311,how to reset nokia 311. If you need another resource for hard reset, use search function at this homepage or find from our related posts.