This phone comes with Android Nougat version 7.1.2 with MIUI 9.1 when the first time release in the market. The camera of XIAOMI REDMI 5 use 12 megapixel at back side of body and 5 megapixel at front body. Both camera can take good pictures and also record video maximum 1080p Full HD. AT normal situation, we do not need to do anything to take perfect pictures at XIAOMI REDMI 5, but after several time use, some users get troubles with XIAOMI REDMI 5 camera, please read some steps to fix XIAOMI REDMI 5 camera.
How To Reset To Factory Default Camera Setting of XIAOMI REDMI 5 ?
This steps can fix several problems at our XIAOMI REDMI 5 camera applications like blank or only show black screen when we activate camera applications.
#Option 1, Reset XIAOMI REDMI 5 to Factory Default using Camera Setting Menu :
Turn on XIAOMI REDMI 5
Please make sure our Camera application still can work / running when Camera Icon pressed
Press Camera Icon to activate Camera applications
Go to menu Setting inside this Camera applications, usually the menu icon shaped like 3 lines box at camera applications, then choose Setting
At Camera Setting default menu, please scroll and find Restore default Settings
Please choose OK when XIAOMI REDMI 5 ask confirmation to Reset all camera setting to factory default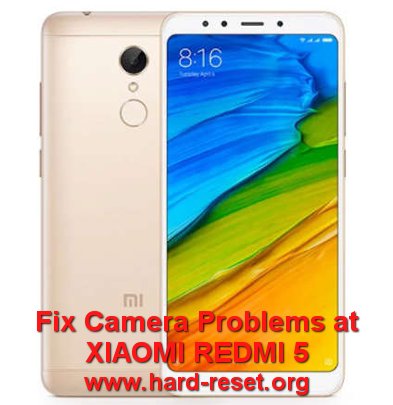 #Option 2, Reset XIAOMI REDMI 5 camera to Factory Default using Setting Menu :
Actually this steps similar with #Option 1 above, but the different only at starting process. Please use this steps when the Camera applications is not running when we press Camera Icon
Turn on XIAOMI REDMI 5
Go To Setting Menu
Choose System Apps
Choose Camera
At Camera detail menu, please scroll and find Restore default settings
When it ask for confirmation, please choose Ok. Then XIAOMI REDMI 5 will be restore back to factory default setting
#Option 3, Install Alternative Camera Applications for XIAOMI REDMI 5 :
After trying #option 1 and #option 2, but XIAOMI REDMI 5 camera still not working, then we can try to install 3th party alternative camera from Google Play Store, at this moment we recommended to install Open Camera, search from Google Play Store. This application is free and have several features to work with XIAOMI REDMI 5.
#Option 4, Do Hard Reset to Factory Default when All Steps to Fix XIAOMI REDMI 5 are not working :
The last options that we can try when XIAOMI REDMI 5 camera is not work properly by doing hard reset. Please follow steps to hard reset XIAOMI REDMI 5 at this specific article
The information from this page describe about How disconnect camera on redmi A1,redmi 5 shutting down camera. If you need another resource for hard reset, use search function at this homepage or find from our related posts.