Tips and tricks to fix Xiaomi Android camera. Xiaomi become very popular in the world because they have great specifications with cheap selling price. This device give more then standard features if compare with other same price Android gadget. One of the important features that  we have to know from this phone is camera. Start from cheap low end until expensive high end Xiaomi Android have many features at their camera. Now we will give information about how to solve camera problems inside Xiaomi Android smartphone or tables at www.hard-reset.org community.
How to Master Reset / Format XIAOMI ANDROID CAMERA To Factory Default ?
Turn On Xiaomi Android Device
Open Main Camera Application
When Camera Application already run, please choose menu icon
At Camera menu choose Menu > Settings > Restore default settings 
Finish restore to factory default Xiaomi Android Camera Applications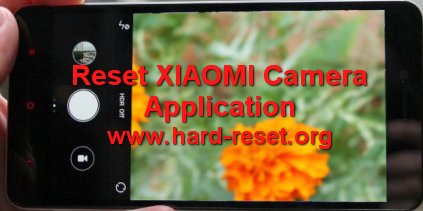 The problems from camera application are vary, some users have different experience with default camera app problems. These are some usual troubles at XIAOMI Camera application which make us need to reset /format camera Setting to factory default or like new :
Main Camera or Front Camera can not start properly or sometime hang when taking photos or record the video.
The camera application can work, but we only see black screen or blank or we can not see the pictures from our LCD screen.
The picture result is not perfect or not sharp or show not normal.
Main Camera or Front Camera can not record video properly.
The result of our picture / photos is blur although we take at enough light conditions and steady at one location (not moving).
The color of our pictures is not as good as real situations at normal light situations.
When someone setup the Setting of main camera, but they forget how to take it back to right Setting options.