Problem solving solutions for HTC 8X Windows Phone with simple step. HTC 8X is smartphone which use Microsoft Operating system at Windows Phone 8 version. This smartphone have 4.3 inches LCD screen and we can play good movie at HTC 8X because it use 1280 x 720 resolutions or 720p HD resolutions. In the market, HTC 8X is produce for 3G HSDPA and 4G LTE  for Internet broadband data. This smartphone already have NFC to transfer data.
What is Advantage of HTC 8X Windows Phone Specifications?
Network GSM 3G HSDPA / 4G LTE for special country
LCD 720 x 1280 pixels, 4.3 inches S-LCD2
Processor Dual-core 1.5 GHz Krait
GPU Adreno 225
Memory Internal 16 GB storage
RAM 1 GB RAM
Main Camera 8 MP, 3264 x 2448 pixels, autofocus, LED flash
Front Camera 2.1MP
Operating System Microsoft Windows Phone 8, upgradeable to WP8 Amber
Battery Li-Ion 1800 mAh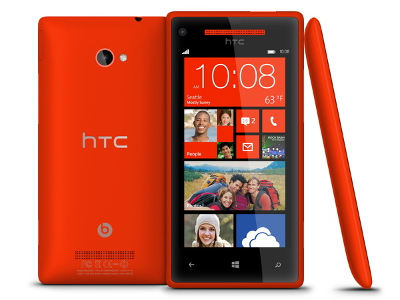 Fix and Problem Solving for Recovery HTC 8X hang or not responding or  malfunctions or stuck or freezing or bricked ?
By using operating system Windows Phone 8 operating system at HTC 8X will give us the ability to download  many applications from Microsoft Market Place. We can choose to buy before download or download the free applications. As usual, the applications is not always compatible with HTC 8X Windows Phone. Our phone maybe start to act not normal such as slowly or stuck or bricks or frozen or the LCD touch screen become not responding. So how to make HTC 8X Windows Phone run faster or act normal again?. The first think we need to know is about finding suspected applications that could make the problem, uninstall that applications and finish it with soft reset or restart or reboot HTC 8X Windows Phone. If HTC 8X Windows Phone still get the same problem, then you have to do hard reset or master format.
How to Soft Reset or Reboot or Restart HTC 8X Windows Phone ?
We can not remove the battery HTC 8X Windows Phone for doing soft reset or reboot, because the battery is non removable. What you can do to soft reset by pressing Power Button for several second and choose to restart / reboot the phone for finishing soft reset process. Do not worry about the data, because all important data still safe while doing soft reset.
#Option 1, Hard Reset HTC 8X Windows Phone with software menu:
Turn on the HTC 8X Windows Phone
Make sure the important data already backup properly
Make sure the battery is not empty
Go to Menu : Setting > About
Choose : reset your phone 
Choose : yes
The HTC 8X Windows Phone will do hard reset with master format.
#Option 2, Hard Reset HTC 8X Windows Phone with Hardware Key Button (please follow continually from STEP by STEP) :
>> STEP 1 (Preparation) :
Make sure your important data already backup
Make sure the battery is full or not empty
Turn off the HTC 8X Windows Phone
>> STEP 2 :
Press and hold : Volume Down Button
Continue press once : Power Button (do not release Volume Down button)
If the LCD appear Icon picture, the you can release the Volume Down button
>> STEP 3 :
You can release all button at STEP 2 above
Press and release carefully4 button bellow:
Press : Volume Up button (then release)
Press : Volume Down button (then release)
Press : Power Button button (then release)
Press : Volume Down button (then release)
How to Restore and Reinstall Clean Windows Phone Operating system / firmware at HTC 8X ?
The source of Windows Phone operating system or firmware already saved inside HTC 8X. If the problem happen with the software and we need to restore the clean Windows Phone operating system can be easily do with hard reset step above. Please make sure we do backup before performing hard reset because all important data and installed applications will be removed.
How to Unlock or Fix or Bypass or Solutions for HTC 8X Windows Phone forgot password code or security lock screen pattern or pin?
You need to be careful when give security protection for HTC 8X Windows Phone, better you note the password in safe locations. If you forgot about the answer of security password, the you need to do hard reset with hardware button above.
Is That Any Secret Code for Doing Format HTC 8X Windows Phone?
There is no secret code for HTC 8X Windows Phone when you need to hard reset with hardware button.
Can I Update HTC 8X Windows Phone Operating System or Firmware ?
Yes you can, HTC 8X with Windows Phone operating system have ability to upgrade the firmware.
How to upgrade HTC 8X Windows Phone operating system? First we need to wait the official HTC 8X official Windows Phone firmware :
Turn on the Phone
Make sure the battery is fully charge
Go to Menu : Setting > Phone update and make sure the check mark already tick at Tell me when updates are available for my phone
If the update available for HTC 8X, then you can continue download and follow the step to update the HTC 8X Windows Phone firmware or operating system.
Latest hard-reset.org Discussions & Share Information:
[Q] my htc 8x for att windows phone wont install apps with error attention required. tried to recover the phone using windows device recovery tool released couple of days back but it does not have the package on the server for my os version which is widows phone 8 version.. any ideas for reflashing the device? i suspect its cache is corrupted and needs re flash..tried hard reset, soft rest and it did not work..
[A] Hi, have you already try to hard reset using hardware button combination key? Usually after doing hard reset your HTC X8 operating system will reformat to factory default. But if your phone get hardware trouble, then that steps above will not fix your trouble. We suggest to bring your HTC 8X to HTC authorize service center to check hardware trouble, or otherwise they will reflash with appropriate firmware.

[Q] Htc x8 touch problem one side blocking how to open..
[A] Hi, if you mean that the LCD touch screen from your HTC 8X can responsive with any finger touch, then you may try to do hard reset using hardware button combination key, to make sure your LCD hardware still fine. If after doing hard reset or reformat, your touch screen still not responding, then you have to bring to HTC authorize service center for hardware test.

The information from this page describe about htc 8x hard reset,htc 8x hard reset not working. If you need another resource for hard reset, use search function at this homepage or find from our related posts.