Tips and tricks for solve HTC ONE M7 problems. HTC name always identical with high end smartphone, and one of is HTC ONE M7. This is the smartphone with GSM data connection and also have 4G LTE capabilities. The HTC ONE M7 have 4.7 inches LCD screen which bright enough if compare with previous HTC One series because it use Super LCD 3 for better view. If some smartphone still use megapixel for camera measurement, this is different for HTC ONE M7, because it use ultrapixel to measure how big the camera can take a pictures. 4 ultrapixel of course bigger then 4 megapixel, and it more than 8 megapixel HTC previous camera specifications. Camera is one new spec that introduce in the market. The other interesting specifications from HTC ONE M7 are the processor and big 2GB ram also the HTC Sense 5 user interface.
What is Advantage of HTC ONE M7  Specifications:
GSM 3G HSDPA and 4G LTE
LCD 4.7 inches touch screen with Super LCD 3
Internal memory 32 GB or 64 GB
RAM 2GB
Beats Audio sound system
Main Camera 4 Ultrapixel, 2688 x 1520 pixels, autofocus, optical image stabilization, LED flash
Big camera sensor 1/3 inches
Front camera for Video conference
Processor Quad-core 1.7 GHz Krait 300
GPU Adreno 320
Operating system Android OS, v4.1.2/4.3 (Jelly Bean) can be upgrade to 4.4 Kitkat
Battery Li-ion 2300 mAh battery
How to Fix or Problem Solving for Recovery HTC ONE M7 hang or not responding or malfunctions or stuck or freezing or bricked ?
The HTC ONE M7 have good specifications with quad core processor from Qualcomm and also big memory RAM as 2GB RAM can do almost any job from native applications or other applications that can be add more from Google Play Store. But Android have many specifications in the world, and this can make some applications in Google Play Store are not compatible with HTC ONE M7 because maybe the developer created that applications for specific hardware specifications. However, we still can force use that applications at our smartphone, but we should understand that sometime that applications can make problem at our smartphone like hang or stuck or frozen or lcd touch screen not responding. In this case of problem, after we got first hang or stuck, we can try to do soft reset or restart or reboot the HTC ONE M7 to delete files or something which make our smartphone become problem, usually cache and temporary files might make problems. If after doing soft reset the phone still problem, than we need to do hard reset or master format.
How to Soft Reset or Reboot or Restart HTC ONE M7  ?
HTC ONE M7 have un-removable battery like previous HTC One series smartphone. If our phone get problem, then we can not remove the battery HTC ONE M7 to do soft reset or reboot. How to force shutdown or restart HTC ONE M7 if the phone get problem? If in the middle of running applications, the HTC ONE M7 stuck and the touch screen not responding with our finger touch, then we still can force shutdown this phone by pressing power button for several second until the phone reboot by itself. So we do not need to remove the battery to reboot or restart HTC ONE M7. In normal conditions, when this phone still can use the menu without problem, doing soft reset or reboot or restart can be done by press power button several seconds, until menu appear. Choose restart/reboot than the HTC ONE M7 will do the soft reset or restart. This is safe to do because all data or installed applications will not removed.
#Option 1, Hard Reset HTC ONE M7 with menu setting:
This is the option that we can do if HTC ONE M7 still can access the menu setting, then try to reset HTC ONE M7 with this step:
Turn on the HTC ONE M7
We suggest to charge the battery full
Make sure you already backup all important data, because it will deleted from HTC ONE M7
Go to Menu Setting > Storage > Factory Data Reset
Choose Reset Phone, continue with Erase Everything
The HTC ONE M7 will do the master reset until it finish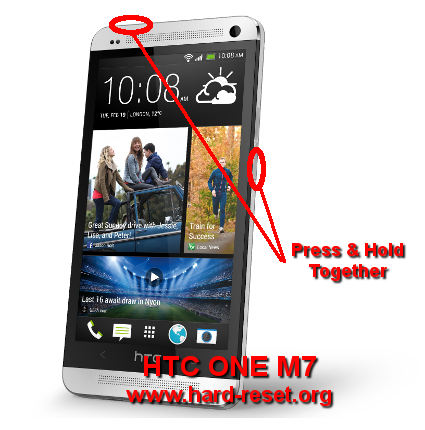 #Option 2, Hard Reset HTC ONE M7 with hardware button key:
In some situations, the LCD of HTC ONE M7 is not responding, so nothing happen when we  navigate or touch the HTC ONE M7, in this step try to hard reset with hardware key by this step:
Make sure you have fully charge the HTC ONE M7 battery
Backup all important data as you can, because all data will be erased
You can do this at any conditions phone On or Off
Press together Power Button + Volume Down together for several second until the white menu appear
Navigate menu with Volume button to go to Factory Reset, to choose or enter press POWER Button
The HTC ONE M7 will do the master reset for several minutes, just wait until it finish.
How to Restore and Reinstall Clean Android Operating system / firmware at HTC ONE M7?
HTC ONE M7 using Android for the operating system, as we know maybe after using HTC ONE M7 several time the applications or phone setting might make the OS become damage and need to reinstall or restore the factory setting and clean Android operating system at our HTC ONE M7. Do not worry because this step are easy to do for everyone. First we need to know that the clean and factory setting Android operating system already saved inside the HTC ONE M7 rom safely. So in normal situations, this operating system file source can not remove accidentally unless you do more such as root or custom recovery which we are not recommended to do. For doing reinstall the operating system just follow the step to hard reset or master format above, then the clean and factory default operating system will be reinstalled automatically at our HTC ONE M7. Please remember, doing format or reinstall or hard reset the HTC ONE M7 will make all important data removed or deleted with or without any notice, better we do backup first before continue that step.
How to Unlock or Fix or Bypass or Solutions for HTC ONE M7 forgot password code or security lock screen pattern or pin (lost password)?
There are some native options to give more security protections at our HTC ONE M7 without need to install additional applications. We are very recommended to use screen lock pattern or the second recommended is using password pin protections. This security protection can safe our data when the phone away from us. The problem happen when we forget about the security answer. But do not worry because Android have step to bypass forgot password or screen lock pattern at HTC ONE M7. Try to give wrong answer continuously until the phone frozen or locked for several seconds. After that we will find Forget Password / Pattern button, press this button and we will bring to the screen for answer Google account username or password (Gmail account). This step will bypass or unlock our forgotten security protection at HTC ONE M7. If we can not access Google account then the last option we can do is doing hard reset or master format.
How to Improve Performance HTC ONE M7 to make run more faster?
Although we known that the processor and specifications HTC ONE M7 is fast, but some user reported after using several month the HTC ONE M7 become slowly, what make this situations happen? Many of this situation happen because there are many applications running together in the background without any notifications, or the user maybe does not aware about this apps. So, we suggest to see the running applications from Menu > Settings > Apps at Downloaded tab, see what applications that might make problem or the applications that we never use before. Try to reinstall that applications and do soft reset to see if the phone become faster than before. If we need to make the HTC ONE M7 performance back to faster again like new, then we need to do hard reset or master format. Please always backup our important data before doing hard reset or master format.
Is That Any Secret Code for Doing Format HTC ONE M7 ?
There is no secret hidden code for HTC ONE M7 to make it back to factory default. Do the options above to hard reset it.
Latest hard-reset.org Discussions & Share Information:
[Q] Hello, I forgot my password ,and I know it should ask me for google acc and pass after some failed attempts...but it doesnt...it keeps sayingS: Screen locked you have incorrectly typed your password 5 times. try again in 30 sec. And this happens every 5 attempts...just the number changes...10 times,15 times....I dont get a forgot passwrod button so I can type my google acc and password and unlock the phone....I have extremely important pictures and files on my phone and I dont want to factory reset with buttons.Can u please help me ? Is there any other way? Or am I missing something...
[A] Hi, usually the Forgot Password / Pattern button will be appear after you give several time wrong answer continuously which can make your HTC ONE M7 become freeze about 30 seconds. Please find that button in the LCD carefully. If you still can not find that button, we suggest you to do soft reset / reboot by pressing and hold POWER button until the phone shutdown by itself. Hopefully you can find that button.

[Q] hi, i did this operating system file source removed accidentally & i did in root or custom recovery. now it is showing no os installed and sd card is showing 26gb when i connected to computer it is showing g:\ (driver letter) with name as "one". when i opened it is showing twrp (twrp.img) file and sideload.zip. i can't able to load any files in that internal memory how to do give the step by step from scratch. thank & regards
[A] Hi, unfortunately we can not give solutions for rooted phone or the HTC One M7 which have already installed with custom ROM, because the standard recovery procedure will not run anymore. Please browse or ask your community which gave first steps to install your current custom ROM, maybe they can give solutions for your HTC One M7 boot problems.

The information from this page describe about htc one m7 hard reset,hard reset htc one m7,how to hard reset htc one m7,htc m7 hard reset,how to format htc one m7,reset htc one m7,htc one m7 factory reset,factory reset htc one m7,how to reset htc one m7,how to factory reset htc one m7. If you need another resource for hard reset, use search function at this homepage or find from our related posts.