Fix problem of Lenovo A800 with simple step solutions. LENOVO A800 is Android smartphone which have 4.5 inches IPS LCD screen which we think is big enough to use for work and fun. LENOVO A800 Android operating system is ICS, and the powered by dual-core processor with 1.2Ghz clock speed. Like other Lenovo product, LENOVO A800 also can be use for dual sim card GSM for slot 1 and GSM for slot 2.
What is Advantage of LENOVO A800 Specifications:
Dual on GSM GSM (dual card GSM)
LCD 4.5 inches IPS
Processor Dual-core 1.2 GHz Cortex-A9
GPU PowerVR SGX531
Memory Internal 4 GB ROM with 512 MB RAM
External Memory Slot MicroSD up to 32GB
Main Camera 5 MP, 2592 х 1944 pixels, autofocus
Operating System Android OS v4.0 (Ice Cream Sandwich)
Battery Li-Ion 2000 mAh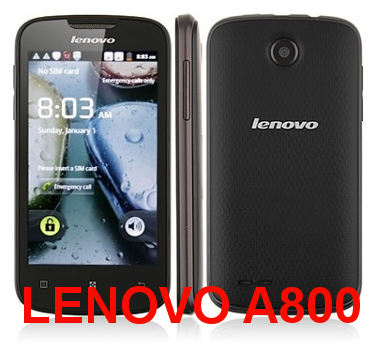 Fix and Problem Solving for Recovery LENOVO A800 hang or not responding or malfunctions or stuck or freezing or bricked ?
Processor LENOVO A800 is dual-core 1.2Ghz and 512MB RAM, actually this specifications is capable to run any Android applications from Google Play Store. But some applications at Google Play Store is not compatible with LENOVO A800, if you ever download the bad applications, it can make our LENOVO A800 become problem like hang or stucks or frozen or bricks or the LCD touch screen is not responsive or maybe  you can not reboot the LENOVO A800 to make it start. At first problem (case when the LENOVO A800 still can run Android os) then you can try to delete any not use applications and then do soft reset or reboot to delete temporary files or cache. When you fell the Android LENOVO A800 still not solving the problem after soft reset, then you can try to do hard reset with master format.
How to Soft Reset or Reboot or Restart LENOVO A800 ?
If you want to soft reset LENOVO A800, try to remove the battery and then put again to the place then turn on the LENOVO A800 to do reboot or soft reset. If you do not want to open the battery, you can do easily with pressing Power Button for several seconds and the option menu to turn off or reboot will appear.
Restore Hard Reset LENOVO A800 with Hardware Button key:
Confirm and make sure that LENOVO A800 Battery is fully charge or not empty
Turn off LENOVO A800
Press together : POWER + VOLUME UP about several second, that the warning will appear at the LENOVO A800
Choose: Reset Device or Wipe data or Clear eMMC 
Make sure we already sure than we know that our application and data will be loose or clear while Resetting LENOVO A800
Please remember, doing hard reset with master reset to factory default above will make all important data and installed applications will be removed and wipe from LENOVO A800, so you have to backup all important data first before doing hard reset. You may need to reinstall the applications from Google Play Store, but please only download the important applications.
How to Restore and Reinstall Clean Android Operating system / firmware at LENOVO A800 ?
LENOVO A800 operating system using Android. If you want to reinstall the operating system, you do not need to copy the os source from outside LENOVO A800, because the default setting and clean operating system already saved in its ROM. What you need to do is just choose to factor reset or press the hardware button to hard reset, after that the LENOVO A800 will reinstall the operating system without any other step to do.
How to Unlock or Fix or Bypass or Solutions for LENOVO A800 forgot password code or security lock screen pattern or pin?
Android operating system from LENOVO A800 have options to give security protection by give password or screen lock pattern. Some other options also available to give protection for LENOVO A800, but to open the protection while we forget the security password pin or screen lock pattern can be done by pressing the Forget Password / Pattern button. But please remember, usually this help button will not always shown in the LCD, you need to do some wrong security input first to make that button appear. When you press that button, then you need to put the Google Account username and password which already installed in LENOVO A800 before. If you can not access the Google username and password, you need to do hard reset with above step.
How to Improve Performance LENOVO A800 to make run more faster?
LENOVO A800 have 512MB memory RAM, and the processor is good. Usually the 512MBT ram is enough to run several applications together, but as we know that some applications is not always good in doing memory share management, we can say this problem as hungry resource applications, so when you run this app, then almost all of resource will be eat by that applications. So, to make LENOVO A800 become back to faster like before, then you need to uninstall that applications, or if the problem still happen then you need to do hard reset to make it clean with factory default setting.
Is That Any Secret Code for Doing Format LENOVO A800?
There is no secret hidden code for LENOVO A800 to make it back to factory default. Do the options above to hard reset it.
How to Clean Virus or Mallware or Spyware from LENOVO A800?
Maybe you every find the unusual display or icon appear in LENOVO A800, we can suspect this problem is happen because of any viruses or mallware or spyware. If you think that you infected, then you have to clean the virus first by downloading recommended antivirus with high rating at Google Play Store. There are several antivirus applications which always update their technology, that's why we suggest to read several antivirus with good recommendation rating from other user at Google Play Store. After that follow the antivirus step  to scan your LENOVO A800. If everything clean, then the Android should run normal again, but if still not normal, then you need to consider performing hard reset with master format.
Latest hard-reset.org Discussions & Share Information:
[Q] Please help me fix my Lenovo A800,only stock at Lenovo logo after 10 seconds it will power off again,I can't even use factory mode,it turn of after 10 seconds,can't read in computer,I think my phone has been corrupt ,nothing shown,only "You have been in factory mode,press the power button and the normal boot,no choose directory,what should I do?Is this phone can be fix?
[A] Hi, if you can not do hard reset or reformat Lenovo A800 using hardware button combination key, then please bring to Lenovo authorize service center for further help.

[Q] Hi, i did factory reset my phone but now when i long press the home button it's not showing up running(in background) apps list.
[A] Hi, usually after finish doing hard reset, then your Lenovo A800 will reformat back to factory default. It will clean all trouble which causes by application or os damaged. Please do hard reset one more time, then after finish and your phone can work again then please do not login with any Google account. After that please try again the home button.

The information from this page describe about how to format lenovo a800,hard reset lenovo a800,how to reset lenovo a800,how to reformat lenovo A800,how to hard reset lenovo a800,lenovo a800 recovery mode,recovery mode lenovo a800,reset lenovo a800. If you need another resource for hard reset, use search function at this homepage or find from our related posts.