Solutions and tips for troubleshot NOKIA LUMIA 1320 problems. Having smartphone with bigger LCD screen will make us fill more compatible to do anything with touch screen. NOKIA LUMIA 1320 is the Microsoft Windows Phone 8 Black version smartphone with 6 inches LCD screen, Phablet size smartphone. The NOKIA LUMIA 1320 also known as RM-994 / RM-995 / RM-996. With bigger screen of course the NOKIA LUMIA 1320 need more power to make the battery not fast to drain, therefor this phone use 3400 mAh battery capacity.
Main Advantage NOKIA LUMIA 1320 Specifications:
GSM 3G HSDPA Broadband with 4G LTE
LCD 6 inches with 720 x 1280 pixels resolution
Internal Memory 8 GB storage
RAM 1 GB
Main Camera 5 MP, 2592 х 1944 pixels, autofocus, LED flash
Processor Dual-core 1.7 GHz
GPU Adreno 305
Operating system Microsoft Windows Phone 8 Black
Battery Li-Ion 3400 mAh
How to Fix or Problem Solving for Recovery NOKIA LUMIA 1320 hang or not responding or malfunctions or stuck or freezing or bricked ?
We can use NOKIA LUMIA 1320 for daily activity and add more applications from Microsoft Marketplace. This phone have 8GB internal storage capacity, but the total free space is less then 8GB, because this phone should use some internal memory space for save some files and operating system. Some user have problem with NOKIA LUMIA 1320 like hang or stuck or bricks or boot loop or LCD touch screen not responding. When this trouble happen to our phone, then we should try to force soft reset or force restart to delete temporary files or cache. If we still face this problem after doing soft reset, then we should have to do hard reset or master format.
How to Force Soft Reset or Force Reboot NOKIA LUMIA 1320 with hardware button ?
If the NOKIA LUMIA 1320 totally stuck and can not access to menu because of hang, we need to do soft reset or restart or reboot with hardware key bellow :
Prepare your NOKIA LUMIA 1320 battery is not empty
Press and Hold together Volume Down Button + Power Button about 15 seconds
The NOKIA LUMIA 1320 will restart and you should release the the button and wait until it finish.
This soft reset or restart process will not erase you data and applications, but when you still get problem after doing the soft reset, then you should try to hard reset or factory reset NOKIA LUMIA 1320.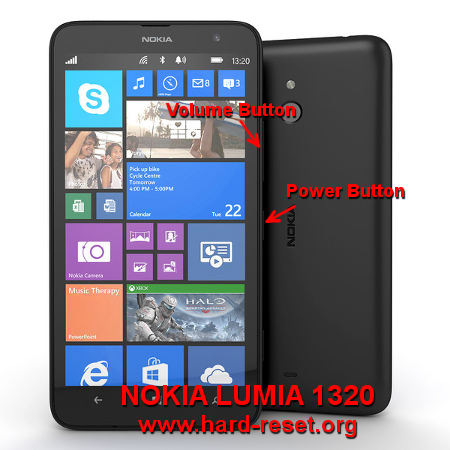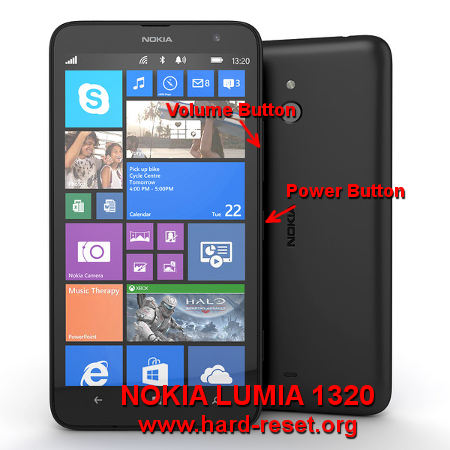 #Option 1, Hard Reset NOKIA LUMIA 1320 with software menu:
Turn on the NOKIA LUMIA 1320
Go to Menu Setting > Setting
Choose About and choose Reset your phone
#Option 2, Hard Reset NOKIA LUMIA 1320 with Hardware Key Button:
Turn off NOKIA LUMIA 1320
Press and hold together Volume Down Button + Power Button until LCD show exclamation mark icon
Now release number 2 button.
Press one by one continuously:

Press and Release Volume Up Button
Press and Release Volume Down Button
Press and Release Power Button
Press and Release Volume Down Down

If the step finish, the NOKIA LUMIA 1320 will do the hard reset or factory format by itself.
Wait until it finish to format, then we will need to setup like new again.
How to Restore and Reinstall Clean Operating system / firmware at NOKIA LUMIA 1320 ?
Some problem with the applications can make our NOKIA LUMIA 1320 operating system become corrupt or damage. In this situations, we should restore or reinstall the clean and factory default Microsoft Windows Phone operating system. We have to know, that the clean factory default Microsoft Windows Phone 8 Black already saved safely inside NOKIA LUMIA 1320 ROM. We can do reinstall that operating system without need to connect to other gadgets or we do not need to connect to Internet while doing we install or restore the Windows Phone 8 operating system or firmware. Just follow the hard reset steps above, then the clean factory default operating system will be reinstall automatically. Please remember, all important data will be wipe or removed from NOKIA LUMIA 1320 when doing hard reset or reinstall the OS, please backup all important data before performing hard reset.
How to Unlock or Fix or Solutions for NOKIA LUMIA 1320 forgot security password or pin code?
Some user have problem with forgotten security protection at NOKIA LUMIA 1320. Unfortunately we can not bypass or unlock without doing hard reset. So, please write down your security protection in safe location to help us unlock NOKIA LUMIA 1320 when forgot the answer. If we still can not access the security protection, then we have to do hard reset with step option #2 above.
How to improve NOKIA LUMIA 1320 perform and run faster?
How fast the speed of NOKIA LUMIA 1320? Well the speed is good enough to run default applications and some standard applications which can be downloaded from Microsoft Marketplace. But some user also report that the NOKIA LUMIA 1320 will become more slowly after use for period of time. Because this phone already have 1GB RAM, it still have limitations to not install too many applications, especially which run in the background. Therefor we suggest to uninstall not use applications. If we want to make NOKIA LUMIA 1320 performance run faster again like new, then we should consider to do hard reset or master format.
Can I Upgrade NOKIA LUMIA 1320 to latest update of Windows Phone 8 Black ?
Yes we can upgrade the default OS Microsoft Windows Phone 8 Black, and NOKIA LUMIA 1320 already have update to Microsoft Windows Phone 8.1 without problems.  We can try to find the upgrade version from Setting Menu upgrade.
What is the secret code for NOKIA LUMIA 1320 ?
NOKIA LUMIA 1320 using Microsoft Windows Phone 8 default operating system which we know that it does not have secret code to tweak it. Until today, we do not have information about any secret code for NOKIA LUMIA 1320.
How to Install Antivirus at NOKIA LUMIA 1320 ?
Some user who usually have problems with their PC which use Microsoft operating system will worry about how secure the NOKIA LUMIA 1320 with virus problems. Do we need to install any antivirus for NOKIA LUMIA 1320? If we are using this phone with default applications and not download any files which do not recognize as safe files, then we should not have to install any antivirus for NOKIA LUMIA 1320. But if you still need to give more protections, then we can find good recommended high rating Antivirus applications from Microsoft Marketplace.
Latest hard-reset.org Discussions & Share Information:
[Q] Hi have resetted my lumia 1320 but it run out of power during the process now its juss flicking displaying the Nokia logo and it cuts off.
[A] Hi, that is why we always suggest to charger our phone properly before doing hard reset, because when the process stops in the middle, then some trouble will happen and can not fix by our self. Please bring your Nokia Lumia 1320 to Nokia authorize service center.

[Q] Hi, My 1320 was getting off automatically as soon i start using any feature. I tried to restore the factory setting through about phone .it went off and restarted with saying it has some problem indicating : END_OF_NT_EVALUATION_PERIOD. Please, help getting it restored !! Krishna.
[A] Hi, usually the operating system will be reinstall when you follow steps at #option 2 above. However, when it does not work then maybe there are some hardware troubles at your Nokia Lumia 1320. Please check at Nokia authorized service center.

The information from this page describe about how to format lumia 1320,how to format nokia lumia 1320,hard reset lumia 1320,how to reset nokia lumia 1320,lumia 1320 hard reset,how to reset lumia 1320,nokia lumia 1320 hard reset,antivirus for lumia 1320,how to hard reset nokia lumia 1320,antivirus for nokia lumia 1320. If you need another resource for hard reset, use search function at this homepage or find from our related posts.