Tips and help solution for NOKIA LUMIA 720 problem and usage. NOKIA LUMIA 720 is an dual core processor smartphone who have 1Ghz processor speed. For user who like to get good picture, NOKIA LUMIA 720 will give us the good performance of camera quality. With 4.3 inches LCD screen, NOKIA LUMIA 720 also easy to use for daily activity.
Main Advantage NOKIA LUMIA 720 Specifications:
GSM 3G HSDPA Broadband
LCD 4.3 inches with 480 x 800 pixels resolution
Internal Memory 8 GB storage
RAM 512 MB
Main Camera 6.1 MP, 2848 x 2144 pixels, Carl Zeiss optics, autofocus, LED flash
Processor Dual-core 1 GHz
GPU Adreno 305
Operating system Microsoft Windows Phone 8
Battery Li-Ion 2000 mAh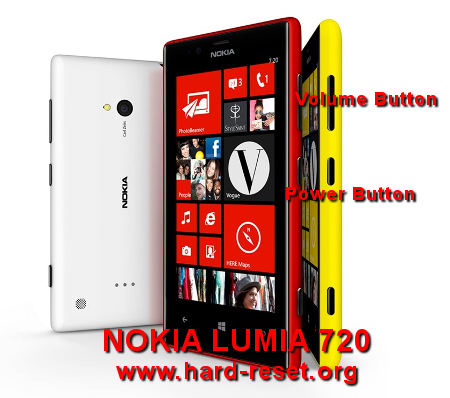 How to Fix or Problem Solving for Recovery NOKIA LUMIA 720 hang or not responding or malfunctions or stuck or freezing or bricked ?
NOKIA LUMIA 720 have a good performance for doing job and entertainment, because it have Dual Core 1Ghz processor from Qualcomm, and power with 512 RAM. Do not worry to run Native or download applications from Microsoft Marketplace. In some conditions, maybe the applications is corrupt or crash with other stuff at NOKIA LUMIA 720, this will make the phone become hang or stuck or bricks or LCD touch screen not responding. Try to do soft reset first if the NOKIA LUMIA 720 have problem or can not run anything. If the soft reset is not help, then you have to do hard reset or master format.
How to Soft Reset or Reboot NOKIA LUMIA 720 with hardware button ?
If the NOKIA LUMIA 720 totally stuck and can not access to menu because of hang, we need to do soft reset or restart or reboot with hardware key bellow :
Prepare your NOKIA LUMIA 720 battery is not empty
Press and Hold together Volume Down Button + Power Button about 15 seconds
The NOKIA LUMIA 720 will restart and you should release the the button and wait until it finish.
This soft reset or restart process will not erase you data and applications, but when you still get problem after doing the soft reset, then you should try to hard reset or factory reset NOKIA LUMIA 720.
#Option 1, Hard Reset NOKIA LUMIA 720 with software menu:
Turn on the NOKIA LUMIA 720
Go to Menu Setting > Setting
Choose About and choose Reset your phone
#Option 2, Hard Reset NOKIA LUMIA 720 with Hardware Key Button:
Turn off NOKIA LUMIA 720
Press and hold together Volume Down Button + Power Button until LCD show exclamation mark icon
Now release all number 2 buttons.
Press one by one continuously:

Press and Release Volume Up Button
Press and Release Volume Down Button
Press and Release Power Button
Press and Release Volume Down Down

If the step finish, the NOKIA LUMIA 720 will do the hard reset or factory format by itself.
Wait until it finish to format, then we will need to setup like new again.
How to Restore and Reinstall Clean Operating system / firmware at NOKIA LUMIA 720 ?
The NOKIA LUMIA 720 using Microsoft Windows Phone version 8 and can be upgrade able to Amber version. The default and clean operating system already saved inside NOKIA LUMIA 720 ROM, so we do not need to connect this phone while doing reinstall the clean Microsoft Windows Phone operating system. Just do the hard reset above step, then the NOKIA LUMIA 720 will do the installation automatically.
How to Unlock or Fix or Solutions for NOKIA LUMIA 720 forgot security password or pin code?
In some situations, maybe we forgot about NOKIA LUMIA 720 security protecton. The easy way do restore forget security password protection NOKIA LUMIA 720 is using hard reset with option 2 above. But please remember, because all data will be removed from you smartphone.
How to improve NOKIA LUMIA 720 perform and run faster?
NOKIA LUMIA 720 is a mid range smartphone, because it already have dual core processor and also have 512 RAM. The 512 RAM at Microsoft Windows Phone 8 is enough to run several applications. But you should remember to not install many applications because more applications will make NOKIA LUMIA 720 slower. We should installed only important applications.
Can I Upgrade NOKIA LUMIA 720 to Windows Phone 8 Amber ?
Yes we can upgrade the default OS Microsoft Windows Phone 8 to Amber version. We can try to find the upgrade version from Setting Menu upgrade.
What is the secret code for NOKIA LUMIA 720 ?
NOKIA LUMIA 720 using Microsoft Windows Phone 8 operating system which we know that it does not have secret code to tweak it. This is also happen to NOKIA LUMIA 720, as today, we do not have information about any secret code for NOKIA LUMIA 720.
Latest hard-reset.org Discussions & Share Information:
[Q] Hi, my Lumia 720 window 8, is suddenly vibrating and back to main screen. and i want format its.
[A] Hi, please follow steps at #option 2 above to do hard reset and master format your Nokia Lumia 720 operating system to factory default. If your problem comes from applications or operating system, then it will solve by performing hard reset.

[Q] i hve tried more than 4 times and still two clog spining on the screen ..i dnt knw wht to do.. soft reset and hard reset both procedure i have tried yet problem persist remain as earlier lumia 720.. i must call it now 420 lumia. very annoying
[A] Hi, if that problems comes from application or operating system, usually it will go away after finish hard reset. But if that problems still happen after you do hard reset, then please consider to ask with nearest Nokia authorize service center.

The information from this page describe about how to format lumia 720,LUMIA 720 HARD RESET,hard reset lumia 720,how to format nokia lumia 720,how to reset lumia 720,how to hard reset lumia 720,nokia lumia 720 hard reset,how to reset nokia lumia 720,how to hard reset nokia lumia 720,nokia 720 hard reset. If you need another resource for hard reset, use search function at this homepage or find from our related posts.