Tips and tricks and solutions for NOKIA LUMIA 920 problems. The smartphone with Microsoft Windows Phone 8 operating system which have good LCD screen and good camera 8 megapixel with Carl Zeis lens. NOKIA LUMIA 920 have several color in the market start with white, black, yellow, red and grey. We can choose which color we like at NOKIA LUMIA 920 body. Of course we still can give alternative cover with other color as well. NOKIA LUMIA 920 lcd screen have high resolutions and good color with IPS type, and also have adjust the screen sensitivity that we can move or touch to navigate the NOKIA LUMIA 920 although we use gloves. This is very important for country who have cold or snow which is many people use gloves and need to access touch screen without problem.
Main Advantage NOKIA LUMIA 920 Specifications:
GSM 3G HSDPA Broadband with 4G LTE ability
LCD 4.5 inches IPS touchscreen
PureMotion HD+ ClearBlack display
Internal Memory 32 GB storage
RAM 1 GB
Dolby headphone sound
Main Camera 8 MP, 3264 x 2448 pixels, autofocus, dual-LED flash
Front camera 1.3 MP for video conference
Other camera advantage Carl Zeiss optics, optical image stabilization
Processor Dual-core 1.5 GHz Krait
GPU Adreno 225
Operating system Microsoft Windows Phone 8 can be upgrade to WP8 Amber and Black
Battery Li-Ion 2000 mAh battery (BP-4GW)
What to do to Fix Problem or Recovery NOKIA LUMIA 920 hang or not responding or malfunctions or stuck or freezing or bricked ?
The specifications of NOKIA LUMIA 920 is good because it have Dual Core 1.5 Ghz processor with 1GB ram will run almost all applications which can be download from Microsoft Market Place without problems. But as we know, some 3th party applications sometime can make problems or crash, this can make our NOKIA LUMIA 920 become hang or bricks or frozen or stuck or lcd touch screen not responding if we touch it. First we need to do soft reset or reboot our NOKIA LUMIA 920 to delete any temporary data or cache, because sometime these files can make problem with other applications or the operating system itself. If the problem still happen after we do soft reset, than we need to do hard reset or master format.
How to Soft Reset or Reboot or Restart NOKIA LUMIA 920 ?
The technology at NOKIA LUMIA 920 makes the battery is not removable. that is why we can not remove the battery for doing soft reset or restart the phone. If the phone frozen or hang when the screen on or in the middle of doing work, then you have to long press POWER BUTTON for several second, if you see 'slide down to power of', do slide the phone then it will turn off. We need to press Power button again to turn on NOKIA LUMIA 920 on again.
How to Master Reset NOKIA LUMIA 920 to Factory Default ?
After doing soft reset, maybe our smartphone still have problem or act not normal. Some problem can make the operating system damage and need to be fix by doing hard reset or master format. Please follow this several option step bellow:
#Option 1, How to Hard Reset NOKIA LUMIA 920 with Setting Menu:
Please remember to backup your important data before doing the hard reset to factory default, because all data and installed applications will be erased.
Turn on the NOKIA LUMIA 920
Make sure the battery is fully charge or not empty
Go to menu: Setting > About > Reset Your Phone
The process of formatting NOKIA LUMIA 920 will do by it self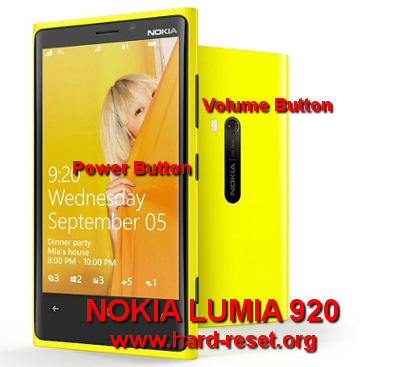 #Option 2, How to Hard Reset NOKIA LUMIA 920 with Hardware Button Key:
Now we have other option to hard reset or format NOKIA LUMIA 920 with hardware key button especially when the phone stuck or can not access to menu :
A. BIG STEP ONE:
Please remember, we have to do two BIG STEP, do it step by step
Turn off the NOKIA LUMIA 920
BIG STEP ONE (a). Press and Hold the Power Button, do not release until the phone vibrate (if you feel the vibrate in NOKIA LUMIA 920 then release the Power Button)
BIG STEP ONE (b). Press and Hold the Volume Down Button, do not release until the LCD show the exclamation mark (if you see the exclamation mark in LCD, then release the Volume Down Button)
B. BIG STEP TWO (this can be done after all BIG STEP ONE finish)
To continue reset, you have to do the last step bellow
Press Volume Up Button Key and release
Press Volume Down Button Key and release
Press Power Button Key and release
Press Volume Down Button Key and release
The NOKIA LUMIA 920 will do the hard reset format, wait about three until five minutes. While waiting you will see the gear appear until it finish.
Please remember, you have to follow the step From BIG STEP A until BIG STEP B by sequence.
How to Restore and Reinstall Clean Windows Phone 8 operating system / firmware at NOKIA LUMIA 920 ?
Some problem happen in our NOKIA LUMIA 920 can make the operating system become damage and need to be reinstall or restore with the right and clean factory default one. The source files of Microsoft Windows 8 already saved inside NOKIA LUMIA 920 rom. We do not need to copy anything when we want to do reinstall the operating system or firmware. Follow the simple step above (you can choose option 1 or option 2) to hard reset or master format, than the operating system will be reinstall automatically. After finish doing reinstall, we need to do setup NOKIA LUMIA 920 again from the beginning.
How to Unlock or Fix or Bypass or Solutions for NOKIA LUMIA 920 forgot password code or security lock screen pattern or pin (lost password)?
With the big internal memory at NOKIA LUMIA 920, sometime we have a lot of important data or pictures or videos inside the internal memory. We are very recommended to give security protection when the phone away from us. Lock screen is important for our NOKIA LUMIA 920. But how to bypass it if we forget the security password protection? If we forget the answer, then we do not have other option except to reinstall or hard reset NOKIA LUMIA 920.
How to Improve Performance NOKIA LUMIA 920 to make run more faster?
By default the running process to rung Microsoft Windows Phone 8 will be run without problem at NOKIA LUMIA 920, because it have good processor specifications. But some user feel the NOKIA LUMIA 920 become slowly after use several months. Usually many NOKIA LUMIA 920 problem like this happen because there are software problem, sometime too many installed applications can make our smartphone become slowly. We can try to reduce the installation by doing uninstall not use applications. But if we want to make the performance of NOKIA LUMIA 920 back to faster like new again, then we need to consider doing hard reset or master format.
What is the Secret Code Key for Hard Reset NOKIA LUMIA 920 ?
There is no secret code for doing hard reset or master format NOKIA LUMIA 920. Just follow the step above to hard reset is the easy way to do.
How to Upgrade NOKIA LUMIA 920 to Microsoft Windows Amber or GDR2 Update Operating System ?
The Amber or GDR2 will be release officially for every Windows Phone 8 operating system smartphone. The step will be inform for user with the notification update from the smartphone. You can also check it manually from :
Setting > Phone Update
Continue with press button check for updates
If the update ready for this smartphone, then we can download and follow the step, but the NOKIA LUMIA 920 will give suggestion to use Wifi internet connection to download the update.
Please remember, the good hardware and big storage at NOKIA LUMIA 920 will make user feel so easy to install or try many applications from Microsoft Market Place, but as we know with the above information, too many applications can make the NOKIA LUMIA 920 become more slowly or act not normal, different speed if compare by the new one. In some situations, the user need to hard reset the NOKIA LUMIA 920 to make it back to normal again, but doing hard reset or master format will removed or wipe or delete our important data and installed applications, so we need to backup to external media before doing master format or hard reset NOKIA LUMIA 920.
The information from this page describe about nokia rm 920 security code. If you need another resource for hard reset, use search function at this homepage or find from our related posts.