Solutions and tips for solving ACER LIQUID E2 problems. ACER LIQUID E2 is the Android with good price and have quad core processor 1.2Ghz with 1GB RAM from Mediatek. This phone have 2 different type, type ACER LIQUID E2 for single simcard and ACER LIQUID E2 DUO for dual simcard at GSM GSM on together. For better experience, the ACER LIQUID E2 and ACER LIQUID E2 DUO have the same specifications and also have 4.5 inches LCD screen with multi-touch capability.
What is Advantage of  ACER LIQUID E2 (DUO) V370 Specifications:
GSM 3G HSDPA for E2 / Dual Sim GSM for LIQUID E2 DUO
LCD 4.5 inches screen
Internal memory 4 GB
RAM 1GB
External memory microSD, up to 32 GB
Main Camera 8 MP, 3264 x 2448 pixels, autofocus, LED flash
Processor Quad-core 1.2 GHz Cortex-A7
GPU PowerVR SGX544
Operating system Android OS, v4.2.1 (Jelly Bean)
Battery Li-Ion 2000 mAh
Understanding about Simcard, Dual Simcard and Simcard Lock at  ACER LIQUID E2 (DUO) V370?
The ACER LIQUID E2 (DUO) V370 have single simcard phone and dual simcard phone. So you need to make sure which kind of ACER LIQUID E2 that we buy. If we have dual simcard phone, it mean we can find dual simcard slot at the backside after we open the back cover. If our phone is ACER LIQUID E2 DUO which have dual simcard slot, then the LCD screen notification bar will appear dual network icon with different color if we activate and use both simcard (it mean we insert dual simcard at both card slot). Only one Slot GSM can run data as 3G HSDPA, the other one will use as 2G for data network.
What is Simcard Lock? For specific country, the ACER LIQUID E2 (DUO) V370 are available from specific network provider. In this case, usually the phone will lock to work only at that specific provider. Please consult ACER LIQUID E2 (DUO) V370 phone with your network provider if you have simcard lock problem. Please remember, simcard lock can not remove or can not unlock with hard reset or master format, we need special step to unlock it with the provider help.
How to Fix or Problem Solving for Recovery ACER LIQUID E2 (DUO) V370 hang or not responding or malfunctions or stuck or freezing or bricked ?
The ACER LIQUID E2 (DUO) specifications are good to run almost any applications that we can download and install from Google Play Store. There are many applications either free or need to pay before download to our ACER LIQUID E2 (DUO), but we have to know, some of applications is not compatible with our smartphone. If we installed that applications, then our ACER LIQUID E2 (DUO) might work not normal and get problems like hang or stuck or bricks or frozen or blank or boot loop logo or LCD touch screen not responding with our finger touch. We have to force soft reset or force restart or reboot the ACER LIQUID E2 (DUO) for delete some temporary files or cache that can cause the trouble. If the problem still happen then we should do hard reset or master format.
How to Force Soft Reset or Force Reboot or Force Restart ACER LIQUID E2 (DUO) V370 ?
When our ACER LIQUID E2 (DUO) get problem, first step that we should do is force to soft reset or force reboot the phone. The easy step to force soft reset is by remove the back case and remove the battery from the locations. Wait about 5 seconds until the power phone totally empty then put again the battery at the right positions. Press POWER BUTTON to finish the soft reset or reboot process. If our ACER LIQUID E2 (DUO) menu or touch screen still can work or still can response with our finger touch, then we can soft reset or reboot by press the POWER BUTTON KEY for several seconds, until we see the pop-up menu. Choose restart/reboot than the ACER LIQUID E2 (DUO) will do the soft reset or restart. Don't worry for you data, because this step will not erase any important data and applications.
#Option 1, Hard Reset ACER LIQUID E2 (DUO) V370 V370 with Software Menu :
Turn on ACER LIQUID E2 (DUO)
Make sure the battery already charge properly
You better to backup all important data
Go to menu: Setting > Backup & reset > Factory data reset > Reset phone  
Choose Erase everything to continue and confirm you ready to do the format ACER LIQUID E2 (DUO)
The ACER LIQUID E2 (DUO) will continue the step until ready to use in clean factory default.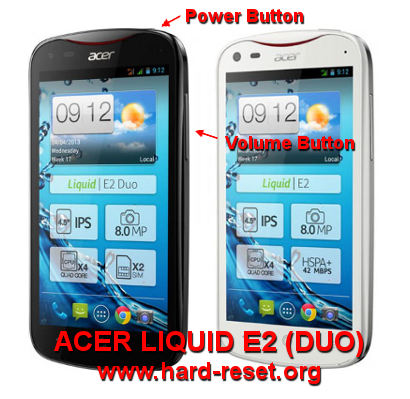 #Option 2, Hard Reset ACER LIQUID E2 (DUO) V370 with Hardware Key Button:
Please check that the battery is not empty
Do not forget to backup all important data
Turn off the ACER LIQUID E2 (DUO)
Press and Hold Power Button until the smartphone vibrate and the Acer logo appear in LCD
Press and Hold together: Volume Up + Volume Down Button for several seconds
Choose Clean boot: YES, navigate with Volume Button
Follow the menu at LCD screen to continue the hard reset ACER LIQUID E2 (DUO)
How to Restore and Reinstall Clean Android Operating system / firmware at ACER LIQUID E2 (DUO) V370?
The Android operating system of ACER LIQUID E2 (DUO) by default using Android Jelly Bean 4.2.1. We have to know the source file of Android operating system by default has already saved inside ACER LIQUID E2 (DUO) ROM. So we do not need to copy anything or no need to connect anything to do reinstall or restore the clean factory default Android operating system or firmware. Just follow the hard reset steps above, then the clean Android operating system will be reinstall from ROM by itself. Please remember, doing hard reset or reinstall the operating system will make all important data removed or wipe or erased from ACER LIQUID E2 (DUO), so we should do backup before performing hard reset or reinstall.
How to Unlock or Fix or Bypass or Solutions for ACER LIQUID E2 (DUO) forgot password code or security lock screen pattern or pin (lost password) V370?
If we have many important data or photos at ACER LIQUID E2 (DUO), then we should give security protections to prevent problem when the phone away from us. There are some option that we can choose for security protections, but we suggest to use screen lock pattern or some user like to use password pin protections. The problem happen when we forget the answer of security protections. But do not worry, because Android have solutions for bypass or unlock the forgotten screen lock pattern or password pin protection. Try to give several time wrong answer for the forgotten password or pattern until the phone freeze or locked for several seconds, after that we can find Forget Pattern / Password button, press this button to unlock our phone with Google account or Gmail account that we have installed before.  If we can not access Google account or Gmail account at ACER LIQUID E2 (DUO) then we should have to do hard reset or master format.
How to Improve Performance ACER LIQUID E2 (DUO) V370 to make run more faster?
The main problem that usually happen with ACER LIQUID E2 (DUO) is the phone become slowly after use several period of time. Basically the slow problem appear after we install many applications that some of them run in the background. Please remember, some applications need to always run in the background without any notice, for example chat applications or something like that will always run in the background. Of course that applications will need RAM to stay and will use processor when they need to work or update. If there are too many applications, than the RAM and processor resource will be not enough then this situations can make our ACER LIQUID E2 (DUO) run slowly. Please try to delete or uninstall not use applications. If we want to make our ACER LIQUID E2 (DUO) performance back faster again like beginning, then we may consider to do hard reset or master format.
Is That Any Secret Code for Doing Format ACER LIQUID E2 (DUO) V370?
There is no secret hidden code for ACER LIQUID E2 (DUO) to make it back to factory default. Do the options above to hard reset it.
How to Update or Upgrade ACER LIQUID E2 (DUO) V370 Android Operating System to Kitkat ?
When we write this solutions, the ACER still not give official Android Kitkat for ACER LIQUID E2 (DUO). Maybe we can find some unofficial Android Kitkat from other community, please remember, doing non official upgrade will need to break our warranty and we have to follow the steps carefully, because some wrong steps will make our ACER LIQUID E2 (DUO) become bricks or can not use anymore. Please consider before upgrade with unofficial ROM. Ask for some expert help is recommended. Some unofficial ROM also have problem with function compatibility, so read the information carefully before do that.
What is AcerCloud at ACER LIQUID E2 (DUO) V370 ?
Some vendors have their own cloud service, and Acer have AcerCloud that already installed by default at ACER LIQUID E2 (DUO)ACER LIQUID E2 (DUO). AcerCloud will give the ability to backup all important data from our ACER LIQUID E2 (DUO) to AcerCloud server. We need to make Acer ID for make our service work at our smartphone. After the backup files already save at AcerCloud, we can access that files from our PC with Microsoft Windows 7 or Windows 8 operating system. If we have problem with AcerCloud or the service can not work normally, then we should reset our data or the worst situations is doing hard reset or master format.
How to Make Battery ACER LIQUID E2 (DUO) V370 More Stronger / Not Fast To Drain / Battery Saving ?
The Battery of  ACER LIQUID E2 (DUO) V370 have 2000mAh capacity, for normal use, we can get fully day without need to charge. But some user have problem with battery  ACER LIQUID E2 (DUO) V370 that empty fast to drain. The battery conditions depend on how we use the phone. The most features that need more battery power are LCD and GSM Network, after that other features like GPS, Bluetooth and Wifi is the other that need to consider. If we are really need to make battery life  ACER LIQUID E2 (DUO) V370 longer, then we should reduce the brightness of LCD screen as minimum as we can see. Use 2G GSM network if the battery really bad and we can not charge. Please disable Wifi, Bluetooth, GPS. Please also try to soft reset the smartphone and try to run only our specific application that we need at this time before charging.
Latest hard-reset.org Discussions & Share Information:
[Q] My V370 was stacked ,when I start it,the logo comes but no extra activity. how can I fix this problem?
[A] Hi, it seems that your Acer Liquid E2 operating system has been damage. You have to reinstall with factory default operating system. At this time you can not go to menu setting because your Acer Liquid E2 can not boot properly. Please follow steps at #option 2 above to do master format using hardware button combination key, then your Acer Liquid E2 will reinstall the operating system and factory default applications.

The information from this page describe about hard reset acer v370. If you need another resource for hard reset, use search function at this homepage or find from our related posts.