Solving problem for HUAWEI ASCEND G525 troubles. Huawei have 4.5 inches LCD screen smartphone with low price but have good quad-core 1.2Ghz from Qualcomm, for run better multitasking HUAWEI ASCEND G525 have 1GB RAM. We also can take good pictures with 5 MP main camera. If we like to have different color, then we can choose black color or white color depend on what we need. Both color at HUAWEI ASCEND G525 also have dual sim card witch can on together. Please note, this solutions and hard reset steps bellow also available for Huawei Ascend G520 and Huawei Ascend G526.
Main Advantage of HUAWEI ASCEND G525 Specifications:
LCD 4.5 inches
Processor  Quad-core 1.2 GHz
Main Camera 5 MP, 2560 x 1920 pixels, autofocus
Front Camera  for Video Conference
Operating system Android OS, v4.1 (Jelly Bean)
Internal Memory 4 GB
RAM 1GB
External microSD slot up to 32GB
Battery Li-Ion 1700 mAh
How to Fix or Problem Solving for Recovery HUAWEI ASCEND G525 / ASCEND G520 /  ASCEND G526 hang or not responding or malfunctions or stuck or freezing or bricked ?
Having 1GB RAM for running Android smartphone will make this HUAWEI ASCEND G525 run applications from Google Play Store without problems. Some user have problem with HUAWEI ASCEND G525 when running applications, the phone become stuck or frozen or bricks or blank or hang or lcd touch screen not responding. We have to know that some applications at Google Play Store is not always compatible with our HUAWEI ASCEND G525, that problems can be happen to our phone. Try to do force soft reset or force reboot to delete temporary files or some cache. If the problem still happen, then we should try to do hard reset or master format. Please remember, doing hard reset or master format can make our important data disappear or removed or wiped. So we need to do backup before performing hard reset or master format.
How to Force Soft Reset or Force Reboot or Force Restart HUAWEI ASCEND G525 / ASCEND G520 /  ASCEND G526 ?
If the HUAWEI ASCEND G525 get hang or trouble in the middle of applications, then we should force to soft reset or reboot this phone. The easy step to soft reset or reboot or restart is by open the back case and unplug the battery. Wait about 5 seconds then put again the battery in the right positions. Continue with pressing Power Button to finish the soft reset process. In normal situations when the phone still can response to our finger touch, then we can soft reset or reboot HUAWEI ASCEND G525 by press POWER BUTTON for several second until popup menu appear, and choose REBOOT / RESTART. We can do this process anytime because this steps is safe, only temporary files or not important files will be remove, but all of our important data will stay at the location.
#Option 1, Hard Reset HUAWEI ASCEND G525 / ASCEND G520 /  ASCEND G526 with Software Menu :
Make sure the battery is charge properly
Turn on HUAWEI ASCEND G525 smartphone
Don't forget to backup all important data
Go to menu: Setting > Backup & reset > Factory Data Reset > Reset Phone 
Choose Erase everything to continue and confirm you ready to do the format HUAWEI ASCEND G525
The HUAWEI ASCEND G525 will continue the step until ready to use in clean factory default.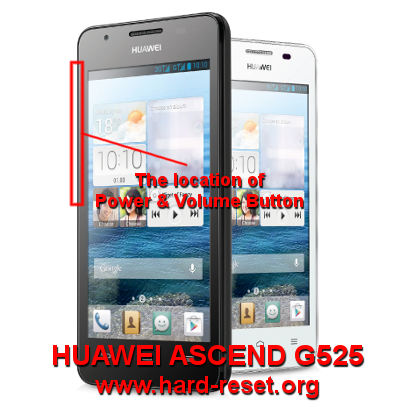 #Option 2, Hard Reset HUAWEI ASCEND G525 / ASCEND G520 /  ASCEND G526 with Hardware Key Button :
Please make sure the battery is not empty
Turn of HUAWEI ASCEND G525
Press and Hold together: Power Button + Volume Up Button for several seconds
Follow the menu at LCD screen to continue the hard reset HUAWEI ASCEND G525, use Volume Down or Volume Up button to moving, and press Power Button to Ok or Enter or Confirm
#Option 3, Hard Reset HUAWEI ASCEND G525 / ASCEND G520 /  ASCEND G526 with MicroSD card Firmware Update :
Make sure the battery if fully charge
Turn off the HUAWEI ASCEND G525
Remove the MicroSD and connect to computer or PC
Download firmware from computer browser http://www.huaweidevice.com.
Choose the Huawei Ascend G525 support and download the same version of firmware or update firmware
Extract the downloaded folder, and copy all folder (include folder) into main root location of MicroSD
Insert again the MicroSD to HUAWEI ASCEND G525
Turn on Phone together with press and hold Power + Volume Up + Volume Down button until the Android logo appear
Wait the process of update or reinstall the firmware will be less then 10 minutes.
How to Restore and Reinstall Clean Android Operating system / firmware at HUAWEI ASCEND G525 / ASCEND G520 /  ASCEND G526?
Android Jelly Bean is the main operating system or firmware at HUAWEI ASCEND G525. The file source of that Android already saved inside HUAWEI ASCEND G525 ROM. When our Huawie phone have problem with the operating system, at some moment we need to reinstall or restore the clean and factory default Android operating system to replace the damage one. To reinstall the operating system, we do not need to connect any gadget to our HUAWEI ASCEND G525. Just follow the hard reset above, then the clean factory default Android operating system will be reinstall by itself.
How to Unlock or Fix or Bypass or Solutions for HUAWEI ASCEND G525 / ASCEND G520 /  ASCEND G526 forgot password code or security lock screen pattern or pin (lost password)?
There are some options to give security protections at HUAWEI ASCEND G525, the famous and recommended screen lock is screen lock pattern and password pin protections. Some user of this smartphone have trouble because forgot the answer of that security pattern or password pin answer. To bypass forgotten password or screen pattern, we need to do several time wrong password continuously until the phone locked or freeze for several seconds. At this time, we will find Forget Password / Pattern button to bypass our forgotten security answer with Google account or Gmail account that we have already saved inside HUAWEI ASCEND G525. If because of some reasons we can not access our Google account or Gmail account, the we have to do hard reset or master format.
How to Improve Performance HUAWEI ASCEND G525 / ASCEND G520 /  ASCEND G526 to make run more faster?
Using Android Jelly Bean at Quad Core 1.2Ghz Qualcomm processor with 1GB RAM will make this phone run faster in normal conditions. But some user reported that their HUAWEI ASCEND G525 get slow speed problem. Usually this trouble happen because there are too many applications run together in the background. 1GB RAM still have limitations, if the applications use almost all available RAM, of course this phone will become slowly. Therefor, we suggest to uninstall some not use applications. If the slow problem still happen and we need to make our HUAWEI ASCEND G525 performance back to run faster again, then we should try to do hard reset or master format.
Is That Any Secret Code for Doing Format HUAWEI ASCEND G525 / ASCEND G520 /  ASCEND G526?
There is no secret hidden code for HUAWEI ASCEND G525 to make it back to factory default. Do the options above to hard reset it.
How to make Longer Life for HUAWEI ASCEND G525 / ASCEND G520 /  ASCEND G526 Battery Saving?
The problem at HUAWEI ASCEND G525 is battery capacity is not too big for Quad Core 1.2Ghz processor. By default the battery capacity only at 1700mAh and of course this is not enough to run fully day without charger. However, we still can save the battery drain by make the LCD brightness become as low as possible, because LCD is the most battery drain. Using 3G HSDPA also can make the battery fast to drain, so if we are at the important situations and need the smartphone on for communications and we are away from charger, try to switch the data network become 2G from Setting menu, but of course this will make the Internet connection become slow, but for email and chat still acceptable. Please also try to disable not user connection like Wifi, Bluetooth and GPS.
How to Upgrade or Update HUAWEI ASCEND G525 / ASCEND G520 /  ASCEND G526 Operating system to Android Kitkat or Android L ?
Unfortunately until we write this information, Huawei still not release the Android Kitkat version or other newer Android version for Huawei Ascend G525 family. But as far as we know, using Android Jelly Bean at this phone still give good performance for daily activity. At some other community website, maybe we can find 3th party Custom ROM for newer Android operating system for Ascend G525 but please be-careful before doing that, because some wrong steps can make our HUAWEI ASCEND G525 can not work properly.
Latest hard-reset.org Discussions & Share Information:
[Q] Hi Everyone, I got a problem here regarding this turning on and off issue. Mine is just the same, it automatically turn on and then just a few second it will turn off, and turn on again.. I can't use my phone properly. I tried hard resetting too, and a purple screen pop out and then saying that "Update Exception, your emmc is readonly, you cant update your system". also, When it boot up, it says that "system time error". What do you think is the causes of everything? does it with bios or eemc? Thanks
[A] Hi, maybe you have to flash firmware using microSD memory card like steps at #option 3 above. Please folloow that steps carefully and prepare the microSD simcard to reinstall your Huawei Ascend G525 to factory default operating system. If you still can not perform that last recommended steps, then you have to consult with Huawei authorize service center.

[Q] Hi! my huawei g525 is I think in bootloop.I turned it on and then it just shows up to the Huawei Ascend logo then restarts again. there was a time that it went up to my home but my time and date restarted to Jan 1980. then when i changed the date after a minute it shutdowns and restarts up to the Huawei Ascend logo only. kindly help! thanks!
[A] Hi, maybe you should do reformat using micros SD card like steps at #option 3 above. But you have to download firmware file from http://consumer.huawei.com and follow that steps carefully.

The information from this page describe about huawei g520 hard reset,huawei g525 hard reset,hard reset huawei g520,huawei g525 firmware,huawei ascend g525 software update. If you need another resource for hard reset, use search function at this homepage or find from our related posts.