Solutions for troubleshoot ASUS ZENFONE 4 / 4S problems. There are many option for us to find Android smartphone, start from cheap until expensive smartphone. But now we have alternative for find cheaper price Android smartphone but have better performance as we know ASUS ZENFONE 4 is the answer, this is  Android smartphone with 4 inches LCD screen but have Intel Atom Dual Core processor also powered with Android Jelly Bean OS, but do not worry because Asus already prepare to give update operating system to Android Kitkat as well. This phone code known as A450CG.
What are the different between ASUS ZENFONE 4 vs ASUS ZENFONE 4S? By the production time, ASUS ZENFONE 4S is appear on the market after several months of ASUS ZENFONE 4 release. The Asus Zenfone 4S have minor upgrade at LCD screen which become 4.5 inches and have light LED flash camera.
What is Advantage of  ASUS ZENFONE 4 / 4S Specifications:
GSM Dual Sim On Together (GSM-GSM)
LCD 4 inches with Gorilla Glass 3 for ASUS ZENFONE 4
LCD 4.5 inches with Gorrilla Glass 3 for ASUS ZENFONE 4S
Internal memory 4GB or 8GB
RAM 1GB
External memory microSD, up to 64 GB
Main Camera 5 MP, 2592 х 1944 pixels, autofocus for ASUS ZENFONE 4
Main Camera 8 MP, 2592 х 1944 pixels, autofocus, LED Flash for ASUS ZENFONE 4S
Processor Dual-core 1.2 GHz Intel Atom Z2520
Operating system Android OS, v4.3 (Jelly Bean), upgradable to v4.4.2 (KitKat)
Battery Li-Po 1200 mAh
How to Fix or Problem Solving for Recovery ASUS ZENFONE 4 / ZENFONE 4S hang or not responding or malfunctions or stuck or freezing or bricked ?
There are many applications from Google Play Store that we can choose for download. There are also some category start from Games or work also available, either free or need to purchase as what we need. But we have to know that some applications from Google Play Store are not always compatible with our ASUS ZENFONE 4. Especially this phone use Intel processor, then maybe some app developer does not have this phone for their trial. Not compatible applications can make trouble to ASUS ZENFONE 4 like hang or stuck or frozen or broken or bricks or LCD touch screen not responding. If we get this trouble, then we should have to force soft reset or force reboot to delete temporary files or cache that make problem at this phone. If the problem still happen, then we should have to do hard reset or master format. Do not forget to backup all important data before doing hard reset, because it could wipe or erase all important data from ASUS ZENFONE 4.
How to Force Shutdown or Force Soft Reset or Force Reboot or Force Restart ASUS ZENFONE 4 / 4S ?
When our ASUS ZENFONE 4 getting hang or stuck or LCD touch screen not responding, we need to force reboot or force soft reset with very easy steps by open the back case and remove the battery. Wait about 5 seconds until the phone power totally lose, then put again the battery at ASUS ZENFONE 4. Press POWER Button to turn on this phone. We also can do soft reset or restart when the phone LCD still responsive by press POWER Button for several seconds until pop-up menu appear, then choose Reboot/Restart to do soft reset or reboot process. The soft reset process is save to do anytime, because our data will keep available at this smartphone after doing soft reset.
#Option 1, Hard Reset ASUS ZENFONE 4 / 4S with Software Menu :
Make sure the battery is charge properly
Turn on ASUS ZENFONE 4 smartphone
Don't forget to backup all important data
Go to menu: Setting > Backup & reset > Factory Data Reset > Reset Phone 
Choose Erase everything to continue and confirm you ready to do the format ASUS ZENFONE 4
The ASUS ZENFONE 4 will continue the step until ready to use in clean factory default.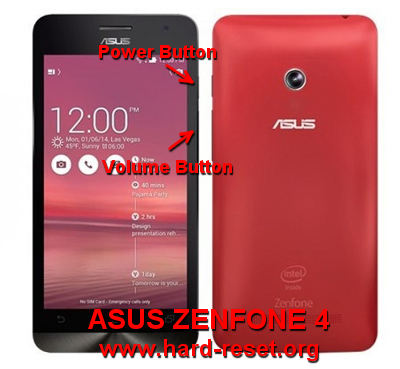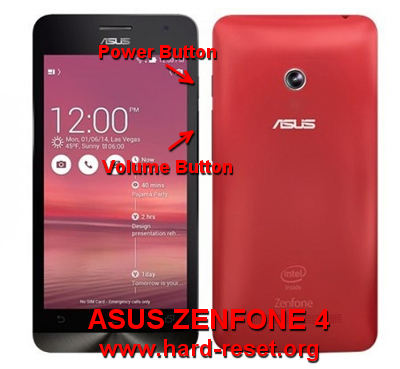 #Option 2, Hard Reset ASUS ZENFONE 4 / 4S with Hardware Key Button:
Make sure the battery fully charge
Do not forget to backup all important data
Turn off the ASUS ZENFONE 4
Press and Hold together: Power Button + Volume Up Button for several seconds until text menu appear, then release both button
At this text menu, choose Recovery and continue with press Power Button to confirm or OK
Wait until the LCD of ASUS ZENFONE 4 will show the Android Logo, continue press together Volume Up + Volume Down together then we will see Android System Recovery Mode
Follow the menu at LCD screen to continue Factory Reset the hard reset ASUS ZENFONE 4, use Volume Up or Volume Down to navigate the Menu and press Power Button to OK or Enter
How to Restore and Reinstall Clean Android Operating system / firmware at ASUS ZENFONE 4 / ASUS ZENFONE 4S ?
What should we do when we need to reinstall the clean factory default operating system or firmware of ASUS ZENFONE 4? First we have to know that the clean factory default ASUS ZENFONE 4 Android operating system already saved inside this phone ROM. Therefore we do not need to connect anything when we want to reinstall the operating system. Just follow the hard reset or master format steps above, then the factory default operating system will be reinstall automatically. When should we do reinstall the operating system? Doing reinstall is recommended when we fine our ASUS ZENFONE 4 start to act not appropriate, because doing reinstall or restore the OS will make all applications and setting back to factory default.
How to Unlock or Fix or Bypass or Solutions for ASUS ZENFONE 4 / 4S forgot password code or security lock screen pattern or pin (lost password)?
We can choose some options to give security protect at ASUS ZENFONE 4. We are always recommended user to use screen lock pattern or you also can choose some other like password pin protections. For us, using screen lock pattern is faster to open with less wrong input. But the protection will become trouble when we forgot the answer. What should we do when we forgot the security protection? Do not worry, because we can try to unlock or bypass the forgotten security protections using Google account or Gmail username and password. Try to do several time wrong answer, after that the phone will freeze or locked for several seconds. At this time, we can find Forgot Password / Pattern button to help us bypass or open forgotten security protection using Gmail account that we have already sign-in before. If we can not access Google account, then we have to do hard reset or master format with hardware button key above.
How to Improve Performance ASUS ZENFONE 4 / 4S to make run more faster?
Dual Core phone from Inter processor already fast enough to do some standard activity using some applications. But maybe after use for several moment, the ASUS ZENFONE 4 become slowly to run or doing multitasking or move between applications at this phone. Usually this problem happen because there are too many applications running in the background. Some applications will keep running in the background after we install from Google Play Store, this is happen because that apps need to wait for update or wait for some command. The applications will need some memory and processor resources, when there are too many apps run together, then they will use more memory and processor resource which can make our ASUS ZENFONE 4 run more slowly. Therefore we need to uninstall some not use applications, but if we want to make ASUS ZENFONE 4 performance run faster again like new, then we have to do hard reset or master format.
Is That Any Secret Code for Doing Format ASUS ZENFONE 4 / ASUS ZENFONE 4S ?
There is no secret hidden code for ASUS ZENFONE 4 to make it back to factory default. Do the options above to hard reset it.
How to Make ASUS ZENFONE 4 / ASUS ZENFONE 4S Battery Work Stronger or Not Fast to Drain ?
We have to know that this phone still have limited battery capacity. Although some users still can use this phone full one day without recharge, but for some active users the battery capacity is not enough. We have to do some adjustment to make it work more stronger. First make LCD screen brightness as low as possible. We also have to disable all not use connection like GPS or Bluetooth or Wifi. Please also note that ASUS ZENFONE 4 / ASUS ZENFONE 4S battery have limit of life, after the battery reach the battery maximum lifetime, then the performance will be downgrade slowly. At this time we have to replace with original ASUS ZENFONE 4 / ASUS ZENFONE 4S battery. Please get it from official store or Asus service center. Be careful to use non original battery, because it could damage our phone.
Latest hard-reset.org Discussions & Share Information:
[Q] My asus zenfone 4 is when i power key is one then open but showing continuously loading loading.
[A] Hi, maybe some apps stuck. Please do hard reset using hardware button combination key like steps at #option 2 above to reformat your Asus Zenfone 4 operating system to factory default.

[Q] after factory reset ,at setup wizard unfortunately Google service popup was coming n doesn't proceed to further steps ,plz help me
[A] Hi, usually after finish hard reset, your Asus Zenfone 4 operating system will be restore back to factory default. At this time your phone will back like new again. Maybe the error comes because you have restored cloud backup from Google account, and some state still have troubles. Please try to hard reset again one more time, and do not login with any previous Google account. Try to use it several time to see the problems still happen or not.

The information from this page describe about how to format asus zenfone 4,how to reboot asus zenfone 4,hard reset zenfone 4,zenfone 4 hard reset,reset zenfone 4,reset asus zenfone 4,zenfone 4 recovery mode,asus zenfone 4 recovery mode,factory reset zenfone 4,how to format zenfone 4. If you need another resource for hard reset, use search function at this homepage or find from our related posts.