When using smartphone sometime we get problem like hang or not responding in Samsung Galaxy S3 (i9300). This is very terrible because we can not use Samsung Galaxy S3  properly.
Here is the specification of Samsung Galaxy S3 smartphone:
LCD 4.8 inchi
Processor Quad-core 1.5 – Exynos 4412 Quad
Memory Internal 16GB/32GB ROM with 1GB RAM
Camera 8 MP,  autofocus, LED flash
Camera Resolution 3264×2448 pixels
Operating System Android v4.0.4 (Ice Cream Sandwich), upgradeable to 4.1.2 (Jelly Bean)
In this manual, will talk about easy step to hard reset or format to factory reset Samsung Galaxy S3 (i9300). Please remember, when we decided to format Samsung Galaxy S3, the data and downloaded application will be removed and back to default application, that's why we always suggest to make backup before doing the Factory Reset Samsung Galaxy S3. You do not need any code to force format Samsung Galaxy S34, just follow the simple step bellow.
How to Erase and Format to Factory Reset Samsung Galaxy S3?
#Option 1: Hard Reset Samsung Galaxy S3 with software Menu.
When we still can access the Setting menu from Samsung Galaxy S3, we can perform the hard reset by using:
Menu > Setting > Privacy > Factory Data Reset > Reset Phone 
When we choose Reset Phone, the warning will be appear and make sure you understand that all data will be erase or deleted. The data you have to backup before is : Contact / SMS / downloaded Application and others.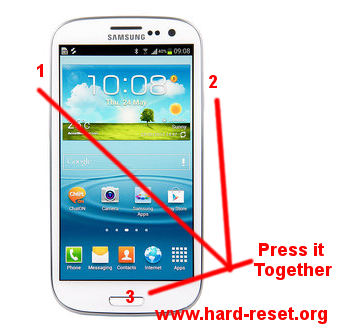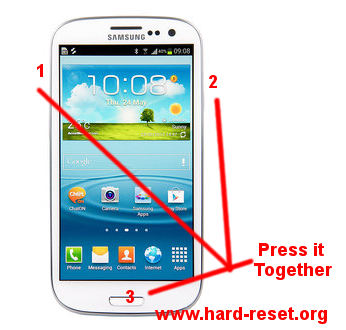 #Option 2: Hard Reset Samsung Galaxy S3 with Hardware Key
When we can not access any menu at our Samsung Galaxy S3, something that we can do more is just pressing secret key to format hard reset Samsung Galaxy S3. Please do this step carefully because all data will be erase while doing this format method.
Turn off the Samsung Galaxy S3 or Remove the Battery
Make sure our Samsung Galaxy S3 in off condition and the battery already in the position.
Press together and hold : VOLUME UP + HOME + POWER BUTTON until the screen appear menu
Choose : Wipe data / Factory Reset with VOLUME DOWN and press POWER to choose ok / enter
Finish, all data will be removed and the Samsung Galaxy S3 will format by itself to factory default.
#Option 3: Hard Reset Samsung Galaxy S3 with using secret code
This is another way to reset Samsung Galaxy S3 (i9300), but please be careful using special secret code, because some step will make Samsung directly reset without any confirmation, of course this will make your data suddenly remove or disappear.
Secret Code for Factory Reset Galaxy S3:    *#7780#
Secret Code for Full Factory Reset:    *2767*3855#
Please becareful using security secret code, your data will remove from your phone, think before you do this.
FAQ to Hard Reset Samsung Galaxy S3 :
When will We Need to Format Factory Reset Samsung Galaxy S3 ?
Samsung Galaxy S3 need to be format when we can not use it properly or sometime because of something we can not touch or run anything in our Samsung Galaxy S3
Is It Safe to Format Factory Reset Samsung Galaxy S3?
Yes it is safe, as far as we use 2 option above
Is My Data Will Be Removed after Format Factory Reset Samsung Galaxy S3?
All data and application will be removed from Samsung Galaxy S3. Only saved data in external memory card will stay in the position. But we still recommended to unplug the external memory card before doing the factory reset Samsung Galaxy S3
What to do if I forgot Samsung Galaxy S3 Security Password or Pin or Screen Lock Code?
You can try to use forget password choice in Samsung Galaxy S3 i9300 for login with Gmail account which already active in the SGS3, but if you can not access the Gmail account, unfortunately you have do the hard reset or restore Samsung Galaxy S3 i9300 to factory default with step above.
Latest hard-reset.org Discussions & Share Information:
[Q] my galaxy gt i9300 is rooted and i had installed TWRP App because i wanted to update to android pie but now it is a bit stuck at the locksecreen when i power it on
[A] Hi, unfortunately we can not answer with good steps for rooted Samsung Galaxy S3, because there are some not standard procedure may happen when doing rooted or custom tweak. Please consult with nearest Samsung authorized service center.

[Q] OS of my galaxy s3 hasbeen deleted what should i do
[A] Hi, as far as your Samsung Galaxy S3 is not rooted or not use custom rom, then your phone still can reinstall factory default operating system with hardware button combination key. Please follow steps at #option 2 above to reformat your OS to factory default.

The information from this page describe about i9300 hard reset,samsung i9300 hard reset,how to format s3,samsung s3 format code,samsung galaxy s3 format code,how to format samsung galaxy s3,hard reset i9300,how to format galaxy s3,how to format samsung s3,samsung galaxy s3 factory reset code. If you need another resource for hard reset, use search function at this homepage or find from our related posts.