Tips and Tricks for solve problem of Google Asus Nexus 7. Google already have their own brand for Android product, known as Nexus. For Android tablet with 7 inch LCD, the Google product name is Nexus 7. This is collaboration between Google and Asus for create this Google Asus Nexus 7.
The GOOGLE ASUS NEXUS 7 main specifications:
Wifi only or Wifi/3G GSM (build 2 kind of products)
LCD 7 inchi
Processor Quad-core 1.2 GHz Cortex-A9
Memory Internal 16/32 GB ROM with 1 GB RAM
Camera front 1.2 MP, video recording up to 720p HD
Operating System Android OS, v4.1 (Jelly Bean), upgradable to v4.2.1 (Jelly Bean)
Battery 4325 mAh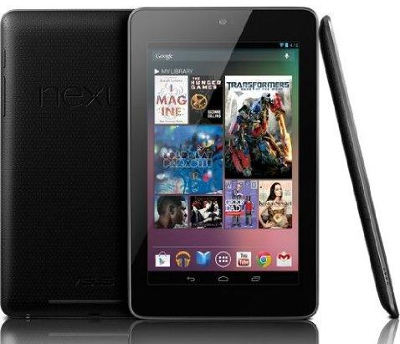 What to do if Google Asus Nexus 7 get problem such as Hang or Stuck or Freeze or Bricks or Not Responding ?
Google Asus Nexus 7 have good processor and also big memory RAM. With this specifications of course almost all applications from Google Play Store will be run easily with Google Asus Nexus 7 without any problem. But as we know some developers not codding well when they create the applications, that situations sometime will impact to our Google Asus Nexus 7, in some case maybe become hang or stuck or frozen or the LCD touch screen is not responding. In the first try step to do is doing the soft reset or reboot the Google Asus Nexus 7. If the problem still happen then you need to find out the suspected applications which make our tablet become problem. If you can not find the solutions, the last options you can do is try to do hard reset with master format step.
How to Master Reset to Factory Default Google Asus Nexus 7 ?
Using Google Asus Nexus 7 for daily use is very interesting, but as we know sometime because of software application or other operation make the Google Asus Nexus 7 get hang or stuck or freeze or unresponsive or not responding so we can not run the Google Asus Nexus 7 properly. If this problem happen, first think that we can try is reboot the Google Asus Nexus 7. If the problem still there then the last option is hard reset to factory default Google Asus Nexus 7 with easy and safety way.
#Option 1, Hard Reset to factory default Google Asus Nexus 7 with menu:
By assume we can go to menu setting, then we can master reset our Google Asus Nexus 7 with:
Turn on the Google Asus Nexus 7
Make sure you already backup every important data in Google Asus Nexus 7
Go to menu Setting > Backup & Reset > Factory Data Reset > Reset Tablet
The last thing to choose is Erase Everything
#Option 2, Hard Reset to factory default Google Asus Nexus 7 with hardware key:
If we can no do the Option 1 because our tablet is not responsive in touch screen LCD, we can try to hard reset/master reset with hardware key:
Turn off the Google Asus Nexus 7
Make sure the battery is not empty, or we suggest fully charge
Press and hold the Power Button until the Google Asus Nexus 7 turn on. Do not release the Power Button, when the LCD is on then continue directly to press Volume Down. So in this situation you alrady press Power Button and Volume Down together
Go to Recovery Mode of Google Asus Nexus 7 by pressing Volume Down twice
When the Menu appear, then choose wipe data/factory reset with Volume button, press Power Button to ENTER
Choose Yes to

Erase all data user

, this is the final factory data reset for Google Asus Nexus
Please remember to always backup all important data before doing the factory data reset or hard reset Google Asus Nexus 7, because we will loose all data after done the master reset process.
How to Restore and Reinstall Clean Android Operating system / firmware at Google Asus Nexus 7 ?
The default setting and clean operating system Google Asus Nexus 7 already saved in the tablet internal ROM, if your Nexus got problem and need to reinstall the Android operating system, you can easily doing that by performing the hard reset with master format step, then the Google Asus Nexus 7 will automatically reinstall. But please remember, reinstalling the operating system will make all important data will be wipe and removed from memory, that's why you should do backup important data before hard reset.
How to Unlock or Fix or Bypass or Solutions for Google Asus Nexus 7 forgot password code or security lock screen pattern or pin?
As Android native default operating system, Google Asus Nexus 7 have options to give protections, so it can be more safety while away from us. We can give screen lock pattern or security password pin code and any other protection options. What should we do if we forget the security password code or screen lock pattern? Do not worry, because Google already prepare for bypass the protection with Forget Password / Pattern button for asking the Google account which already setup in that Google Asus Nexus 7. If for some reason you can not access the Google account, then you need to perform the hard reset.
Latest hard-reset.org Discussions & Share Information:
[Q] I don't believe that my new nexus 7 has the factory settings. When I turn it on it says welcome, but there is no lock to swipe or request for my google account. There is a digital clock and date, both od which are wrong, in the left upper corner when I swipe down. There are no response or icons present when I swipe the right corner down. I just returned the tablet I received yesterday for the same problem. I've tried the reboot to no avail. Am I doing something wrong or is the nexus 7 a lemon?
[A] Hi, Nexus 7 also have reset to factory default or master format option from setting menu.

The information from this page describe about asus nexus 7 hard reset,Asus nexus hard reset,hard reset asus nexus 7,asus nexus 7 reset,how to format nexus 7,hard reset asus nexus,nexus asus hard reset,format nexus 7. If you need another resource for hard reset, use search function at this homepage or find from our related posts.