Nokia N8 is a GSM smartphone which have 3.5″ LCD. The latest version from Nokia N8 operating system already upgraded to Nokia Belle Refresh. The step to upgrade already publish from official Nokia information.
This is the main specifications of Nokia N8 with Carl Zeiss Optics Support:
GSM Smartphone
LCD 3.5″ Amoled Capacitive touchscreen with Gorilla Glass
Camera 12Mp with Flash with front camera support
Camera Powered by Carl Zeiss Optics
Processor 680 MHz ARM 11 with GPU
Memory 16 GB storage, 256 MB RAM, 512 MB ROM
External card slot up to 32GB
How to Master Reset Nokia N8 do the Factory Default Setting?
If our Nokia N8 have problem such as hang or not responding or slow or stuck or have problem or frozen, then what we can do is try to restart the phone first to erase all temporary file and clean the cache. If the Nokia N8 problem still there then the last thing we can try is to do Master Reset to Factory Default Nokia N8 with safety way.
#Option 1, Hard Reset Nokia N8 with Menu Setting:
If we still can access the menu, then do this step:
Go to Setting Menu
Choose Phone
Choose Phone Management
Choose Factory Setting, after that choose Delete Data and Restore
The Nokia N8 will reset all data for factory default, please remember before doing this step for always backup any important data before it deleted.
#Option 2, Hard Reset Nokia N8 with Hardware Key Button:
If we can not access the menu with screen, or the LCD is not responding, we have to hard reset Nokia N8 with secret button key:
Make sure you understand that all data will be deleted, so do backup as you can
Turn off the Nokia N8
Press the Hardware key together: Volume Down Button + Camera Button + Menu Button
Still continue the no.3 step (do not release), continue with pressing Power Button wait until the phone vibrate to start the factory reset Nokia N8 automatically.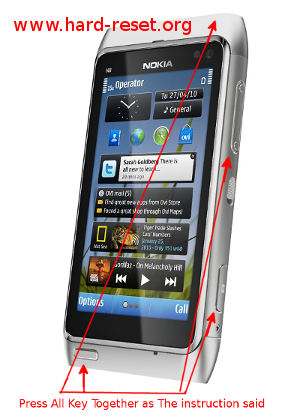 #Option 3, Hard Reset Nokia N8 with Secret Code and Phone Lock Code:
If we want to format Nokia N8 with security code, try this :
Make sure you already backup all important data before do the factory reset
From the Phone Positions, type : *#7370#, after that press YES
It will ask the Phone Lock Code, if you never change it, the default Phone Code of Nokia N8 is 12345
What about if we forget the Phone Lock Code of Nokia N8: We suggest to bring the Nokia N8 to nearest Nokia service center.
Important to consider: Please always remember to backup every important data before doing the step to master reset Nokia N8 above, because all application and data can be totally remove/erased and clean from Nokia N8 after finish the reset process.
Latest hard-reset.org Discussions & Share Information:
[Q] hi how to hard reset a n8 if you are stuck ad the lock code bit as soon as the phone turns on
[A] Hi, you should try to use default lock code 12345 at your Nokia N8. If you or someone else have ever changed the security code then you have to ask help at Nokia authorized service center.

[Q] I forgot my n8 lock code then how i format my nokia n8
[A] Hi, if you can not use default security code 12345, then you have to ask Nokia authorized service center to unlock or reformat to factory default.

The information from this page describe about nokia n8 lock code,nokia n8 hard reset lock code,format n8,nokia n8 hard reset without code,nokia n8 formatting code,nokia n8 format key,nokia n8 factory reset,nokia n8 format number,nokia n8 lock code factory setting,how to factory reset nokia n8. If you need another resource for hard reset, use search function at this homepage or find from our related posts.