Nexus is brand of Android product by Google, now Nexus 4 is collaborating between LG and Google. It build good smartphone with good specifications:
LCD 4.7 inchi
Processor Quad-core 1.5 GHz Krait
Memory Internal 8GB/16GB ROM with 2GB RAM
Camera 8 MP,  autofocus, LED flash
Camera Resolution 3264×2448 pixels
Operating System Android OS, v4.2 (Jelly Bean), upgradable to v4.2.2 (Jelly Bean)
What to do if Google LG Nexus 4 E960 malfunction or not responding or hang?
Because of some case, our Nexus 4 sometime will get problem such as stuck or freezing in special conditions. If this problem happen we need to try restarting the LG Nexus 4 E960to make sure the cache or temporary files already removed from the system. If the problem still happen, then we need to do factory reset. Please remember, by doing factory reset our Google LG Nexus 4 E960 data and applications will be removed and wipe to factory default.
#1 Option Hard Reset Factory Default using Button or Hardware Key
Make sure the battery is fully charge or not empty
Turn off the Google LG Nexus 4 smartphone
Press the Power button and Volume Down button together for several seconds
The menu will appear in LCD
choose the menu with Volume button to select Factory Reset
To enter, please use Power Button
The Google LG Nexus 4 will do the format to factory reset by itself until it finish.
Please be careful to do the format because you have to make sure the data already backup or copy to other location outside the Google LG Nexus 4. Hard reset and format
This manual is talking about How to Format LG Google Nexus 4 E960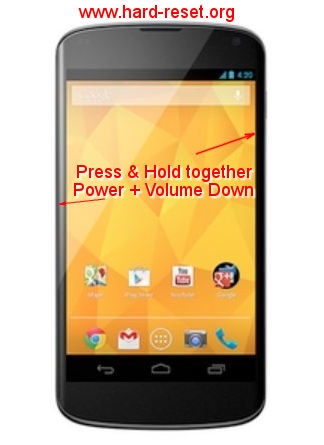 #2 Option Hard Reset Factory Default using menu (master reset)
Try to turn on LG Google Nexus 4, after booting up and ready to use, please go to:
Setting > Backup and Reset > Factory Data Reset > Reset Device
This option is more easy to do because we do not need to press any hardware key to do master reset of LG Google Nexus 4.
What to do If I forgot Nexus 4 E960 Security Password Code or Pin or Screen Lock Protection (Unlock Security Code)?
You have to go to get recovery password with Forget password button to ask about Gmail account in LG Google Nexus 4, if you can not access the account or can not bypass the security, then you have to do hard reset like step above.
How to make LG Google Nexus 4 E960 run Faster?
If you are the Android user who always installed a lot of applications or you have desire to test new applications, then you have to be careful because this situation can make the LG Google Nexus 4 become slowly. Better to install just important applications or selected save applications. Format to factory default with hard reset can make LG Google Nexus 4 E960 become faster.
How to Reinstall LG Google Nexus 4 Android Operating System?
LG Google Nexus 4 use Android for the Operating System, the factory default operating system already installed in LG Google Nexus 4 ROM, it will not removed even we choose to erase everything in factory data reset option. The factory data reset / hard reset will reinstall the operating system LG Google Nexus 4 to factory default and with their applications.
The information from this page describe about yhsm-inucbr_001,lg e960 hard reset,lg nexus 4 hard reset,how to format nexus 4,lg nexus hard reset,hard reset lg nexus 4,hard reset nexus 4,nexus 4 hard reset,e960 hard reset,hard reset lg nexus. If you need another resource for hard reset, use search function at this homepage or find from our related posts.