iPad use some iOS start from iOS 4 / iOS 5 / iOS 6. With iPad we can download lot of application from AppStore. Sometime our iPad can not use properly or hang or freeze or unresponsive or not responding because of application or some other fault. This steps will do reset with ipad button combinations or hardware button keys.
What Should I have to Do While iPad Hang or Stop Working?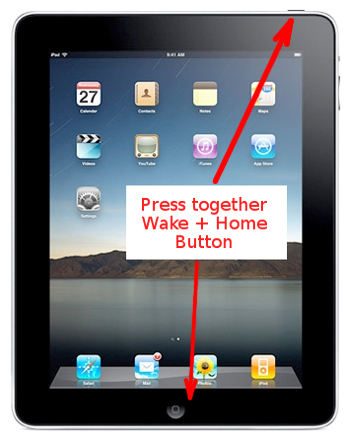 First think to do is trying to reset or rebooting the iPad, resetting the iPad with soft reset method will not make our saved data disappear.
Press & Hold the Home Button & Wake-up/Sleep Buttons together.
Wait about serveral seconds to reset the iOS.
The Apple Logo will appear when iPad is rebooting
Finish than the iPad already restarted.
The step above use for solving problem of not responding or freezing iPad, if the problem still appear, than we have to hard reset or format the iPad and wipe all data. To format to factory default the iPad, one method that we can use by connected the iPad to iTune computer and reset all data.
How to Format iPad Easily to Factory Default?
Follow the instructions once our iPad still act strange or can not use properly. Please do it carefully because our saved data can be removed and wipe everything for factory default.
Prepare computer with iTune already installed
Use USB cable for iPad to connect the iPad to iTune computer
make sure the iTune already start
Press together and hold the Wake-up/Sleep + Home button for several seconds
When we see the Apple logo in the screen, release the Wake-up/Sleep button only, but the Home button still continue to press about several seconds more
If everything running well, then the iTune will show up the the iPad ready in Recovery Mode.
Continue with the menu and follow the step to go to Factory Default menu for the iPad.
Please remember, only format the iPad iOS while our iPad not in good conditions or not running well, hard reset the iPad will remove our data, make sure we already backup the data in our iPad iOS.
Latest hard-reset.org Discussions & Share Information:
[Q] Nice work! Thx

The information from this page describe about ipad factory reset button combination,factory reset ipad with buttons. If you need another resource for hard reset, use search function at this homepage or find from our related posts.