HTC Desire S is Android smartphone which have the specification bellow:
LCD 3.7 inchi
Processor 1Ghz Qualcomm
Memory Internal 1.1 GB ROM with 768 MB RAM
Camera 5 MP, autofocus, LED flash
Camera Resolution 2592 x 1944 pixels
Operating System Android OS, v2.3 (Gingerbread)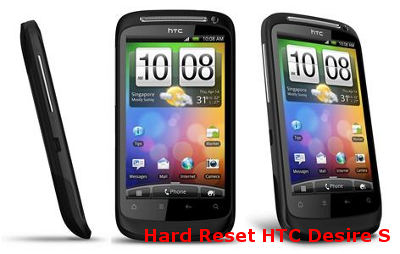 How to Hard Reset to Factory Default HTC Desire S :
Hard Reset HTC Desire S with Software
If we still can access the menu, the easy way to hard reset using Setting function by pressing :
Menu > Setting > Privacy > Factory Data Reset
This is the way to erase all data on HTC Desire S, such as Google Account, Contact, SMS, application and it settings. If you need to clean all data in SD Card, you have to choose Erase SD Card option. Be careful because it will erase anything including your data such as picture, music and everything.
Hard Reset HTC Desire S with Hardware Button
Another way to Hard Reset Desire S by using hardware button, this option can be done when we can not access the menu or the HTC Desire S can not run properly. This is what we have to do :
Remove the Battery for 10 seconds
Put The Battery at the position again
Press together : POWER + VOLUME DOWN about less than 10 second, that the HTC Desire S will go to HBOOT menu (you will see 3 Android pictures). At this point, to ENTER press POWER BUTTON, to NAVIGATE press VOLUME UP and VOLUME DOWN (depend on what we need)
Choose: CLEAR STORAGE using VOLUME UP or VOLUME DOWN than press POWER BUTTON to ENTER
Wait several minute than The HTC Desire S will restart by itself and ready to the first time start state
When will We Need to Factory Reset HTC Desire S ?
Using smartphone Android should be in fast way, if we feel our smartphone become more slowly than before, the last option to do is to reset and format to factory default. But please do this carefully because it will lose all of your data in HTC Desire S. Better to backup your data first before doing the step above.
Note:
This information have the same meaning : Master Reset HTC Desire S, Format HTC Desire S, Restore to Default HTC Desire S, Full Reset HTC Desire S
Latest hard-reset.org Discussions & Share Information:
[Q] Whenever I try to do the hard reset using the volume down and power buttons my Desire S just turns on normally too? It doesn't go to the menu that you talk about. Also, in the Settings, Privacy menu there is not a Factory Reset option. Any tips please?
[A] Hi, please note that the steps at #Option 2 above will start from OFF position. Therefore you need to turn off your Desire S first before performing hard reset using hardware button combination key.

[Q] My htc desire s switches it self off and on every time,what couid be the problem.
[A] Hi, make sure the battery is charge properly. Because sometime if the battery is empty, then the phone will turn off by itself after turning on. the second possibility that maybe happen at your HTC Desire S is because your applications got crash and also can make phone not work right. However, if the problem comes from software or applications, you still can try to reinstall the clean factory default operating system by doing hard reset. Please try to do hard reset with hardware button key above.

The information from this page describe about htc desire s hard reset,htc desire s s510e hard reset,hard reset htc desire s,htc pg88100 hard reset,how to hard reset htc desire s,htc desire s factory reset,reset htc desire s,htc desire s510e hard reset,how to format htc desire s,hard reset htc pg88100. If you need another resource for hard reset, use search function at this homepage or find from our related posts.