We are now talking about how to fix problem at Huawei Ascend P1 / P1S (U9200, U9200E). Huawei Ascend P1 is thin smartphone from Huawei which already have 4.3 LCD screen wide with Super AMOLED screen to give bright and colorful display when using this smartphone for entertainment or for doing any other job. Of course good display will make it more fun.
Huawei Ascend P1 is the high end Android smartphone from Huawei which have fantastic performance, let see the specification bellow:
LCD 4.3 inchi with Super AMOLED
Processor Dual-core 1.5 GHz Cortext-A9
Memory Internal 4GB ROM with 1GB RAM
Camera 8 MP, autofocus, dual-LED flash
Camera Resolution 3264×2448 pixels
Operating System Android OS, v4.0 (Ice Cream Sandwich)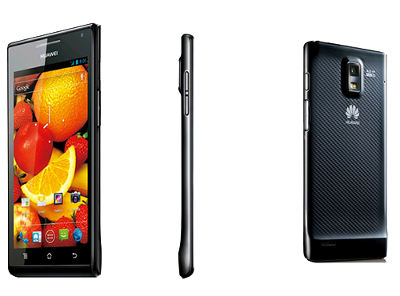 How to Force Soft Reset or Force Reboot / Restart when Huawei Ascend P1 frozen or LCD touch screen not responding ?
Because of any causes, Huawei Ascend P1 can be hang or stuck in the applications or can not access anything while the phone still running an application. Since the battery or Huawei Ascend P1 is not removable, than we can not release the battery to do soft reset, but do not worry because we still can force the Huawei Ascend P1 to restart or soft reset by press and hold Power Button several seconds until it reboot by itself. This step will not remove any important data, this only act like turn off and turn on the Huawei Ascend P1 again.
How to Hard Reset to Factory Default Huawei Ascend P1 :
Hard Reset Huawei Ascend P1 with Software
If we still can access the menu, the easy way to hard reset using Setting function by pressing :
Menu > Setting > Backup & reset > Factory Data Reset > Reset Phone
Continue by choose : Erase Everything
This is the way to erase all data on Huawei Ascend P1, such as Google Account, Contact, SMS, application and it settings.
Hard Reset Huawei Ascend P1 with Hardware Button
Another way to Hard Reset Huawei Ascend P1 by using hardware button, we can use this option when the Huawei Ascend P1 stuck in some option and we can not go to setting option at main menu, this is that we can do :
Turn off Huawei Ascend P1 / P1S
Press together (2 buttons) : POWER + VOLUME UP about less several second than we will feel the vibrate at Huawei Ascend P1, than the Huawei Ascend P1 will go to recovery menu. At this point, to ENTER press POWER BUTTON, to NAVIGATE press VOLUME UP and VOLUME DOWN (depend on what we need)
Choose: WIPE DATA / FACTORY RESET  using VOLUME UP or VOLUME DOWN than press POWER BUTTON to ENTER
Wait several minute than The Huawei Ascend P1 will restart by itself and ready to the first time start state
When will We Need to Factory Reset Huawei Ascend P1 ?
We hope this is the final way to do while we can not find other option to fix our smartphone. Huawei Ascend P1 need to be hard reset to factory default when we can not access anything or the phone become slow to access or some unusual problem happen such as hang or stuck or frozen or bricks at our Huawei Ascend P1. Please remember to always backup your data before doing Hard Reset.
This step to Factory data reset is almost the same between Huawei Ascend P1 and Huawei Ascend P1S
How to Restore or Bypass or Unlock forgot Security Password or Pin or Screen Lock Pattern Huawei Ascend P1 / P1S?
If you forget the Huawei Ascend P1 / P1S security password code, then try to recover it with Forget Password button in your Android, it will ask for default Google account in Huawei Ascend P1 / P1S. But if you still can not access the Google account, then you should do master reset with format to factory default with the step by step upside.
How to Change Battery Huawei Ascend P1 / P1S (Battery Replacement) ?
Huawei Ascend P1 / P1S battery is non removable, it is mean that we can not replace anytime the battery. Actually we can do it by our self, but this step is only for advance user, because several tools needed to open the back case and any other component inside Huawei Ascend P1 / P1S  when replace the battery. But do not worry when you need to change the battery get problem, because the nearest service center will easily help us to change the battery.
Latest hard-reset.org Discussions & Share Information:
[Q] my phone is stuck on booting when i turn it on. i already tried factory resetting it but it still same thing happens. also, when i tried to run the intermediate pack and other update.app the dload folder becomes empty even though it already contains update.app. please help.
[A] Hi, it seems that your have finish reformat or reflash your Huawei Ascend P1 using microSD card with dload folder. Usually this process will run without problems, unless you use wrong firmware file. Please make sure your download firmware version is correct and try again to reflash your Huawei Ascend P1.

[Q] hi need to change my phone battery any Huawei service centre around Mpumalanga
[A] Hi, first of all, if you get your Huawei Ascend P1 from GSM provider, then you can ask your network provider for get help changing the battery of your Huawei Ascend P1. But if you need to get information about Huawei service center location, then please find the nearest Huawei service center from their worldwide location at : http://consumer.huawei.com/en/support/service-center/index.htm

The information from this page describe about huawei ascend p1 hard reset,huawei p1 hard reset,hard reset huawei ascend p1,huawei u9200 hard reset,huawei ascend p1 reset,huawei ascend p1 factory reset,huawei ascend p1 battery replacement,how to hard reset huawei ascend p1,how to hard reset huawei u9200,hard reset Huawei u9200. If you need another resource for hard reset, use search function at this homepage or find from our related posts.