Nokia N8 is symbian smartphone with full touch screen to navigate everything. Nokia N8 have the specification bellow:
LCD 3.5 inchi with AMOLED display
Processor 680 MHz ARM 11
Memory Internal 16 GB storage, 512 MB ROM with 256MB RAM
Camera 5 MP, autofocus, LED flash
Camera 12 MP, 4000×3000 pixels, Carl Zeiss optics, autofocus, Xenon flash
Operating System Symbian OS can be upgradable to Nokia Belle Refresh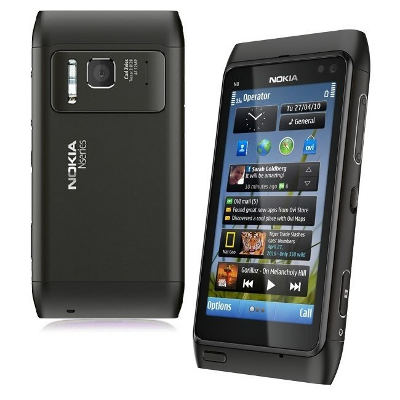 Troubleshooting Nokia N8
How to Hard Reset and Format Nokia N8 to Factory Default?
If you think some problem happen at our Nokia N8, better to try doing factory reset. To do thins make sure everything already backup such as contact and other data. There are several way to Factory Reset Nokia N8:
# Option One, Reset Nokia N8  using default menu
Nokia N8 have already have the factory default facility at main menu, try to do it when we still can operate Nokia N8 before reset:
Menu > Settings > Phone > Phone mgmt > Factory Setting > Delete Data and Restore
# Option two, Reset Nokia N8 using Dial Pad Key
Turn On the Nokia N8
Ready at dial or phone position
Input the keypad with *#7370# then choose YES
If Nokia N8 ask for phone lock, use default 12345
# Option three, Reset Nokia N8 Using hardware key (this is dangerous, read carefully before do this)
If you can not open any menu or Nokia N8 stuck and can not start anything, the last change that you can do is reset it using hardware key, but this step will erase everything and all data will empty such as Ovi application. So consider carefully before doing option three (hardware reset)
Turn off the Nokia N8
Press and Hold together "VOLUME DOWN + CAMERA BUTTON + MENU BUTTON + POWER BUTTON"
do not release the button at step 2 until Nokia N8 vibrate and the screen will appear again
Finish to reset to factory default Nokia N8
What Should  I  do if the Security Code is not working or if I forget the Nokia Security Code? Well better to go to nearest Nokia Service Center to ask for help.
Latest hard-reset.org Discussions & Share Information:
[Q] Which keys can i use to hardreset my nokia n8 i have forgotten my lock code
[A] Hi, you can try to use three options above. But you can try to use option three if your phone is locked.

[Q] plzzzzzzzzzzzzzzzzzz help me i don't know what is security code of my phone my phone is Nokia N8
[A] Hi, you can try to use default security code: 12345. If still can not work, then you have to ask Nokia authorize service center to unlock with their official software tools.

The information from this page describe about how to format nokia n8,nokia n8 hard reset,nokia n8 security code,nokia n8 security code reset,nokia carl zeiss hard reset,nokia n8 format code,nokia n8 reset code,how to hard reset nokia n8,Hard reset nokia n8,how to format n8. If you need another resource for hard reset, use search function at this homepage or find from our related posts.