iPhone 5 come with iOS 6 (also for iPhone 4) which have many feature and good stability for daily usage. The technology with iOS 6 make user have more option and fun to use the iPhone 5. But we have to understand that iOS 6 sometime still get error or hang or not responding while using or run some applications. When this problem happen we have to do hard reset for format our iPhone  5 with simple and easy step.
Help me When iPhone 5 with iOS 6 hang / not resposive / stuck / unresponsive / freeze
What we have to do while having problem above just try to reset the iPhone 5, we can try to do safty way by doing Soft Reset iPhone 5:
Soft Reset iPhone 5 will try to restart and delete cache or temporary file from iOS then start application with fresh content.
Start the iPhone home screen, then press and hold together  Power + Home button.
Release Power + Home button when we see the Apple logo in the screen
It will restarting the Apple iPhone 5
After doing the soft reset, try to run the iPhone again like usual, if the problem still appear, then you can try to format the iPhone 5 by use menu for reset (remember all data should be backup first because it will delete from your iPhone)
go to Settings -> General -> Reset -> Reset All Settings (do it carefully for safety your data first)
If we can not do hard reset or format to default using menu, try using button reset like this: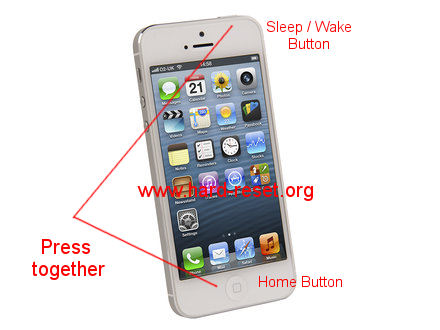 try to press for long time the Home button + POWER/Sleep/Wake-Up button together, you just have to press them for several second than make it reset by itself.
Latest hard-reset.org Discussions & Share Information:
[Q] I want to learn how to reset all kinds of phones
[A] Hi, for hard reset or reset to factory default of iPhone 5 or 4 can be done using steps above.

[Q] LOL MY IPOD is stuck after fail jailbreak uninstall

The information from this page describe about hard reset iphone 6,reset iphone 6,factory reset iphone 6,how to reset iphone 6,hard reset iphone 5,iphone 6 reset,how to factory reset iphone 6,iphone 5 hard reset,iphone 6 hard reset,iphone 6 factory reset. If you need another resource for hard reset, use search function at this homepage or find from our related posts.