Tips and tricks to fix password problems at MICROSOFT WINDOWS 10 computers or laptop. Because of some trouble, we can not login to our Microsoft Windows 10 computer or notebook. Therefore we have to do restore forgotten password at this computer. What should we do? Please read some information bellow, to fix forgot password or username can not login to MICROSOFT WINDOWS 10.
2 Simple Steps for Recovery / Reset Forgot Password Protection at MICROSOFT WINDOWS 10:
#Option #1, Use Password Reset Disk.
This options is available to use when we have ever created recovery password reset disk from our MICROSOFT WINDOWS 10 to troubleshoot or restore forget login password. If we do not have recovery drive, then we can skip this options. Please note, the Password Reset Disk can be keep at flash drive or USB removable media.
Turn On MICROSOFT WINDOWS 10
When it ask for Login, then please click and choose Reset Password menu
The window will be appear, then choose Next
Then the next window will be appear options / drop-down to choose media location of our Password Reset Disk. Then choose the correct Password Reset Disk location. Then click Next
Then the next window will be appear to type our new Password, then type our new password two times at correct field and also the hint for our password, then choose Next
If everything correct, then you will see last window to inform that the steps to reset MICROSOFT WINDOWS 10 is done, then choose Finish
Try to login again with new password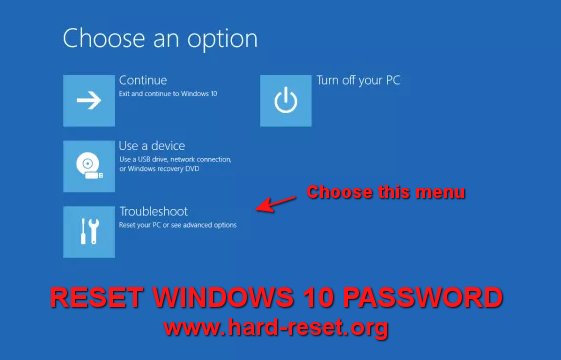 #Option #2, Reset MICROSOFT WINDOWS 10 Without Reset Disk recovery (No Reset Disk)
If we have never created reset disk recovery for MICROSOFT WINDOWS 10, then there are no other options to recovery or bypass forgotten password at MICROSOFT WINDOWS 10. The only way that we can do is reset our MICROSOFT WINDOWS 10 to factory default. This steps will remove all data inside our PC and make it like new and fresh installed MICROSOFT WINDOWS 10. All applications also will be remove from this computer. Please do it carefully.
We have to go to Boot options at our MICROSOFT WINDOWS 10. Please turn on our computer.
When the computer finish booting and ready at login screen, then choose or click Power Icon, this icon is located at bottom right corner.
Please press and hold together: Shift key (use keyboard) + Restart menu (use mouse).
Our computer will reboot again, but it will go to Boot options. At this location, please choose Troubleshoot > Reset this PC > Remove everything.
Then our PC will process the reset to factory default or master format to fresh MICROSOFT WINDOWS 10 state of installation.