Tips and tricks to fix or recovery Samsung account at our Samsung Android. There are some facilities that can be save to cloud using several account. At Android smartphone especially Samsung Galaxy product, we have options to create Samsung account and use this account to all of our devices.
What is a Samsung account used for at our Android or other Samsung devices ?
Samsung have many devices which can connected to Internet such as Samsung Smartphone, Tables, Television, and some other Internet base product. We can use one account to sign in or login to all Samsung device and share data with secure connection between all devices, you can use some different Samsung features at each product with same account.
How secure Samsung account if shared at other devices ?
All Samsung account will share data only at specific devices that we already sign in. All cloud data will save with good encryption and security protection at Samsung cloud server. Please note, this account only recommended to use at devices which are belongs to us, therefore please only use or login using Samsung account at our own devices. Do not use Samsung account for public devices.
How to Reset or Restore Forgot Password Samsung Account ?
Some users maybe have problems with Forgot Password Samsung account. Do not worry for this problem, because Samsung already give good steps to recovery or restore our Samsung account:
Use Internet Browser from Smartphone or Computer and browse to https://account.samsung.com
After we open that page, then please choose Sign In
We will see Find ID or Reset password. If we already know our Samsung account ID, then choose Reset Password.
At Reset Password page, we can type our Email account or Phone number that when we signed up at the beginning with that Samsung account ID.
Wait several minutes then we will get email from Samsung to reset our Forgotten Password, please follow steps by steps from that email carefully.
After reset finish, we can use same Samsung account ID with new Password at our smartphone or tablet or other devices.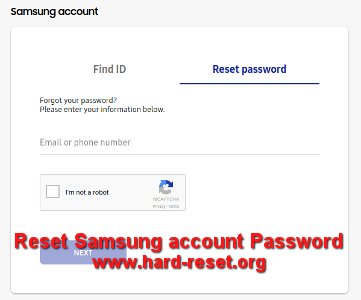 How to Restore Forgot Samsung Account ID ?
This steps will be same with Forgot Password steps above, because it will use same Internet webpage, but different only at last steps :
Use Internet Browser from Smartphone or Computer and browse to https://account.samsung.com
After we open that page, then please choose Sign In
We will see Find ID or Reset password. Then choose Find ID.
At Find ID page, please type our correct First name, Last name, and date of birth that we use when sign up or register at beginning.
If everything correct, then you will get confirmation about your Samsung account ID.
We can your that Samsung account ID at our smartphone, tablet or all other Samsung devices.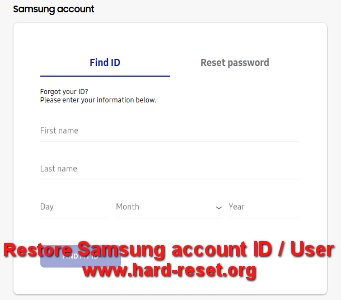 How to Remove or Delete Samsung account ?
If we do not want to use Samsung account anymore, then Samsung give steps to remove Samsung account from Samsung cloud server. Please note: All data will be remove or wipe from Samsung cloud server, it may effect to all of our gadget which use this removed Samsung account like Android Samsung Galaxy smartphone or tablet or TV. These are the steps for deleting Samsung account :
Please use Internet Browser from Smartphone or Computer to https://account.samsung.com/membership/service/getServieInfoList.do
Please Login / Sign In with Samsung account that we want to remove or delete
If we already Login at Samsung account dashboard, then choose Profile
Please choose Delete Account
If ask for password, then please type our password, and choose continue
Samsung will give several important notice before remove / delete Samsung account, please read carefully. If we are sure to remove, then choose Confirm
If everything work without problems, then our account will successfully removed from Samsung cloud server, then it will effect to all our devices like Samsung Galaxy Android or other devices. If we have some problems with removing Samsung account, please contact Samsung Support.
Easy Steps to Recovery Samsung Account:
Browse to https://account.samsung.com/ with Internet Browser
Choose Sign In
We will see Find ID or Reset password. Then choose Reset Password.
Please type our Samsung / Email account then click Next
Follow steps to recovery forgotten Samsung Account at your Email Inbox / Mailbox.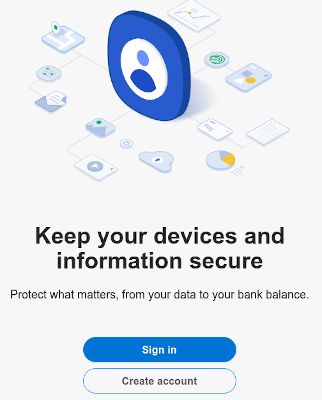 How To Fix Unable to Sign in to my Samsung Account ? – Error occurs when attempting to Sign in
There are several possibilities for this problems, but we suggest to check whether your Internet connection is active when sign-in to the Samsung account. If the problems said:
An error occurred during an SSL connection
Sign in failed due to difference between current time and device time
Perhaps the date-time setting is not correct. By default our Samsung Android smartphone will use auto-date & time and synchronize with network-provider time. However, some that options accidentally change to manual. Please check and turn the automatic date & time sync from your menu Setting > Date and time
Latest hard-reset.org Discussions & Share Information:
[Q] Forgot pass word to open phone

[Q] what if i forgot what email did I use or even the name that I used the moment I signed for Samsung account i.n? what will I going to do now
[A] Hi, if you forgot your Samsung Account ID, then please try to find it with Samsung Find ID help from https://account.samsung.com. It may ask for some question about your information like first name and last name, and your birth of date. Or something similar with that.

The information from this page describe about samsung account password reset,account samsung com forgot password,how to crack samsung account password,howto recover my accoun informatio samsung accuunt,i forgot samsung account. If you need another resource for hard reset, use search function at this homepage or find from our related posts.