Simple tips and solutions for HUAWEI ASCEND Y530 problems. This is cheap smartphone from Huawei which have 4.5 inches LCD screen. The specification of the processor using Dual Core with 1.2 Ghz clock speed. HUAWEI ASCEND Y530 have 512 MB RAM for running some applications. This phone have 5 megapixel main camera in back side of the body and also have front camera for video conference. This phone also known as HUAWEI ASCEND Y530-U00 and HUAWEI ASCEND Y530-U051 for some specific country area.
What is Advantage of HUAWEI ASCEND Y530-U00 / ASCEND Y530-U051 Specifications?
Network GSM 3G HSDPA
LCD 4.5 inches capacitive touch screen
Processor Dual-core 1.2 GHz
GPU Adreno 302
Memory Internal 4 GB with 512 MB RAM
Main Camera 5 MP, 2592 х 1944 pixels, autofocus, LED flash
Front Camera for Video Conference
Operating System Android OS, v4.3 (Jelly Bean)
Battery Li-Ion 1750 mAh
How to Fix or Problem Solving for Recovery HUAWEI ASCEND Y530-U00 / Y530-U051  hang or not responding or malfunctions or stuck or freezing or bricked ?
For doing daily activity, HUAWEI ASCEND Y530 can use without problem for chatting like Whatsapp or Line Messenger or Kakaotalk or WeChat, doing social media like Facebook or Instagram or Path or something similar like that. But in some situations, our HUAWEI ASCEND Y530 can get some trouble that make it become hang or stuck or bricks or broken or freeze or boot logo loop or LCD touch screen not responding. When we get this problem, we have to force shutdown or force soft reset or reboot to clean temporary files or cache at Internal memory. If the problem still happen, then we have to do hard reset or master format. Please always backup all important data before doing hard reset, because all data and installed applications will be removed or wipe from HUAWEI ASCEND Y530.
How to Force Shutdown or Force Soft Reset or Force Reboot or Force Restart HUAWEI ASCEND Y530  ?
When our HUAWEI ASCEND Y530 get trouble or hang or LCD touch screen not responsive with our finger touch, then we have to force shutdown or force soft reset or restart. The very easy steps to force soft reset HUAWEI ASCEND Y530 is remove the batter after open the back case cover. Unplug the battery and wait about 5 seconds., then we can put again the HUAWEI ASCEND Y530 battery at the right positions, then continue press POWER button until this phone turn on again. This steps also can be done when our HUAWEI ASCEND Y530 still at normal positions, please press and hold POWER button until pop-up menu appear, then choose Reboot / Restart / Power off to performing soft reset. Do not worry for doing this steps, because soft reset or reboot will not remove any data or uninstall any installed applications.
#Option 1, Hard Reset HUAWEI ASCEND Y530 with Software Menu :
Make sure the battery is charge properly
Turn on HUAWEI ASCEND Y530 smartphone
Don't forget to backup all important data
Go to menu: Setting > Backup & reset > Factory Data Reset > Reset Phone 
Choose Erase everything to continue and confirm you ready to do the format HUAWEI ASCEND Y530
The HUAWEI ASCEND Y530 will continue the step until ready to use in clean factory default.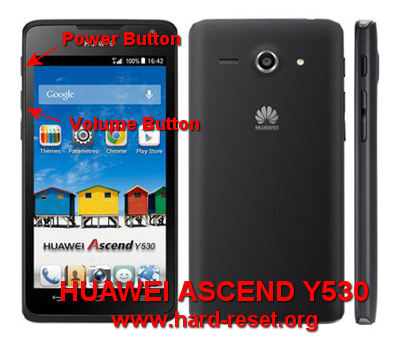 #Option 2, Hard Reset HUAWEI ASCEND Y530-U00 / ASCEND Y530-U051 with Hardware Key Button :
Please make sure the battery is not empty
Turn of HUAWEI ASCEND Y530
Press and Hold together: Power Button + Volume Up Button for several seconds
Follow the menu at LCD screen to continue the hard reset HUAWEI ASCEND Y530, use Volume Down or Volume Up button to moving, and press Power Button to Ok or Enter or Confirm
#Option 3, Hard Reset HUAWEI ASCEND Y530 with MicroSD card Firmware Update :
Make sure the battery if fully charge
Turn off the HUAWEI ASCEND Y530
Remove the MicroSD and connect to computer or PC
Download firmware from computer browser http://www.huaweidevice.com or http://consumer.huawei.com
Choose the HUAWEI ASCEND Y530 support and download the same version of firmware or update firmware
Extract the downloaded folder, and copy all folder (include folder) into main root location of MicroSD
Insert again the MicroSD to HUAWEI ASCEND Y530
Turn on Phone together with press and hold Power + Volume Up + Volume Down button until the Android logo appear
Wait the process of update or reinstall the firmware will be less then 10 minutes.
How to Restore and Reinstall Clean Android Operating system / firmware at HUAWEI ASCEND Y530 (Reformat)?
After using HUAWEI ASCEND Y530 for daily activity, there are many applications that we can download from Google Play Store, but sometime that applications can make our HUAWEI ASCEND Y530 become trouble and make the operating system damage or broken or corrupt. Therefore we have to reformat or reinstall or restore the clean factory default Android operating system again for our HUAWEI ASCEND Y530. We have to know that the factory default Android operating system file source has already saved safely inside HUAWEI ASCEND Y530 ROM. We do not need to copy from any other source or connected to other gadget. Just follow the steps to hard reset above, then the clean factory default operating system or firmware will be reinstall automatically at our HUAWEI ASCEND Y530.
How to Unlock or Fix or Bypass or Solutions for HUAWEI ASCEND Y530 forgot password code or security lock screen pattern or pin (lost password)?
We can choose several options for give more security protections at our HUAWEI ASCEND Y530. Usually we recommended to use screen lock pattern because it is more faster and easy to use. But some users also like to user other kind of protections like password pin lock. The problem happen when we forgot the answer of security protections. Do not worry, because Android has already simple steps about how to unlock or bypass forgot security screen lock pattern or password pin protection at our HUAWEI ASCEND Y530-U00 / Y530-U051 using Google account. Please give several time wrong answer continuously until HUAWEI ASCEND Y530 locked or freeze about 30 seconds. At this time we will find Forgot Password / Pattern button. Press that button to unlock forgotten security protection at HUAWEI ASCEND Y530 using Gmail username and password that we have already signed in before. If we can not access Gmail account, then we have to do hard reset or reformat using hardware button combination key.
How to Improve Performance HUAWEI ASCEND Y530-U00 / ASCEND Y530-U051 to make run more faster?
The specification of HUAWEI ASCEND Y530 is Dual Core processor at 1.2 Ghz clock speed. Actually this specification already good enough for running some daily activity. But we have to understand that this processor is not too fast and the 512 RAM is limitted if we want to run more applications together. Moreover, that some applications from Google Play Store will keep run in the background without any notifications, therefore sometime our HUAWEI ASCEND Y530 will become slowly because insufficient RAM and processor resources problems. Please uninstall some not use applications, then it will make more free RAM and processor resources. If we want to make our HUAWEI ASCEND Y530 performance become more faster again like new, then we have to do hard reset or master format.
Is That Any Secret Code for Doing Format HUAWEI ASCEND Y530-U00 / ASCEND Y530-U051 ?
There is no secret hidden code for HUAWEI ASCEND Y530 to make it back to factory default. Do the options above to hard reset it.
How to Upgrade or Update HUAWEI ASCEND Y530 to Android Kitkat or Android Lollipop ?
When the first time HUAWEI ASCEND Y530 release, it use Android Jelly Bean as factory default operating system. As far as we know until we write this information, there are no official Android Kitkat for HUAWEI ASCEND Y530. But there are some Android firmware update for HUAWEI ASCEND Y530 from Huawei official website, but it is only minor update for Android Jelly Bean. Maybe we can find some other community make custom ROM Android Kitkat for HUAWEI ASCEND Y530, but sometime some features can not work normally with custom ROM, and some wrong steps of installation also can make our HUAWEI ASCEND Y530 become corrupt and can not use anymore. Please becareful and consider more before flashing with custom ROM or doing ROOT at HUAWEI ASCEND Y530.
How to Improve Battery Life Longer of HUAWEI ASCEND Y530-U00 / ASCEND Y530-U051 For Solving Battery Drain Faster Problem (Battery Saving / Extent Battery Life)?
The battery of HUAWEI ASCEND Y530 use Li-Ion 1750 mAh. Although this capacity is not too small, but we need to make some adjustment to make our HUAWEI ASCEND Y530 battery not fast to drain. Please try to extend our HUAWEI ASCEND Y530 battery life by turn off some not use connection like Bluetooth / Wifi / GPS. If possible, try to reduce the LCD brightness as low as possible. Please consider using 2G only GSM connection if we are away from power charger but we need to extend more battery life, but of course the Internet data connection become more slowly if compare by 3G GSM network.
How to Deal with Insufficient Internal Memory at HUAWEI ASCEND Y530 (not enough memory) ?
After use this phone several period, some users get not enough memory when install or update some applications from Google Play Store. Please make sure we still have at least 300 MB free internal memory RAM that we can check from menu Setting > Storage. Although we have more free space at external memory, but our Android need internal memory when install some applications. Please reduce the installed applications for give free Internal memory empty space. Please note, our Internal memory will also insufficient because some applications like Facebook or Whatsapp or BBM or Twitter also will use internal memory to save their data, therefore after use several moment, our internal memory will be insufficient.
Latest hard-reset.org Discussions & Share Information:
[Q] Thank you! Option #3 helped me to ressurect my huawey y530
[A] Hi, nice to know your phone can work again.

[Q] My mobile phone Huawei Y530-U00 is facing the problem which is when I switch it on it went straight to ANDROID and stayed them. That's what on the screen read so I did press the ON button plus the Volume Up Button and the instructions appear but when I select one of the instruction it went back to ANDROID. Please help me here.
[A] Hi, it is better try to do hard reset or reformat/reflash your Huawei Ascend Y530 using microSD like steps at #Option 3 above. You have to download proper files first from Huawei mobile official website and then try to reflash the firmware using that steps.

The information from this page describe about 530 huawei power button problem sol,Huawei y530_U051 mobile how to update to the authorized image,huawei y530 dead mobile update rom download file,huawei ascend y530 problems,how to hard reset huawei y530 u00 showing chinese language,how to hard reset huawei y530 mobile,how to fomat huwawel 530,How to change huawei y530 phone language,how flash Huawei ascend y530-u051 says image file failed,hawaei y530 lockscreen password forget how to restart. If you need another resource for hard reset, use search function at this homepage or find from our related posts.