New Android smartphone release every year with many specifications improvement. Therefore many users need to upgrade their smartphone. However, there are some important steps to do before selling our phone without any troubles. Please follow the following information bellow to give more information how to securely sell our Android smartphone.
1.  Backup all important data 
Many important and private data will be saved inside our phone, therefore it is very important to make sure all data already backup properly. If our phone has external memory card slot, then we can use MicroSDXC for the place to backup our important data from internal memory. We can use other recommended backup software from Google Play Store, or send our files to cloud storage or personal email.
Some options to backup:
Backup to External Memory
Backup to Cloud Storage server like Google Drive or Dropbox
Backup to USB Flashdisk with OTG
Backup to Email with send file as attachment
Backup with High Rating Backup / Restore software from Google Play Store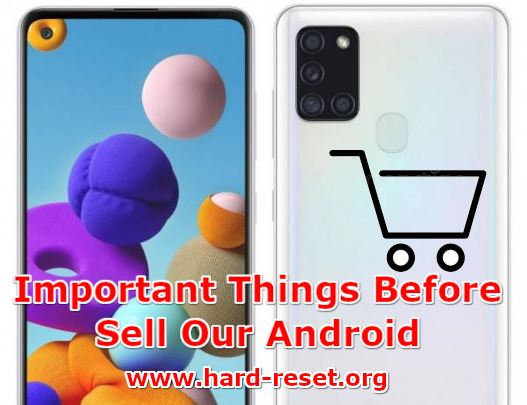 2. Remove Any Google Account for bypass FRP
There are several Google account that may registered at our Android smartphone. Please remove all Google account before performing hard reset or reformat. It is important to bypass FRP after finish hard reset.
Some Android smartphone menu to remove Google account at:
Menu Setting > Account & Sync > Google account
Choose Google account
Choose Remove account
3. Check & Remove Manually Important Files From Our Internal Memory
Although doing hard reset or reformat will wipe or erase all files from internal memory, but we strongly suggest to remove or delete all important data manually using Android file manager. Why? Because by using file manager, we can surely remove all private files / data like photos, videos and downloaded files.
Please check this folder from internal memory:
Check and remove files from DCIM folder (for photos and videos)
Check and remove files from Download folder (for any downloaded files)
Check and remove files from Document folder
Check and remove files from other social media or chatting applications like Whatsapp folder or Telegram folder or Signal folder
4. Remove Simcard and Memory Card
Some Android smartphone has single or dual simcard slot. Please make sure all network provider sim-card already removed from simcard slot. It is also happen to external memory slot, please remove any MicroSD from external memory card slot.
5. Performing Hard Reset or Master Format
Please make sure all process above already finish properly. The last process before sell or give our Android smartphone to someone else is performing reformat or hard reset the operating system to factory default. After this process then our phone will act like new phone. This phone ready to sell to other people.
Some Android smartphone menu to do hard reset or reformat:
Open Menu Setting
Choose System > Advanced > Reset Options 
Choose Erase all data (factory reset)