Tips and Tricks for  HUAWEI ASCEND Y300 solutions when get problem. The 4 inches Android smartphone with Jelly Bean is available at HUAWEI ASCEND Y300. This is single card GSM smartphone with better price but have good processor dual core at 1Ghz clock speed.
What is Advantage of HUAWEI ASCEND Y300 Specifications:
GSM 3G HSDPA
LCD 4 inches touch screen
Internal memory 4 GB
RAM 512GB
External memory microSD, up to 32 GB
Main Camera 5 MP, 2592×1944 pixels, autofocus, LED flash
Front camera for Video conference
Processor Dual-core 1 GHz Cortex-A5 Qualcomm
GPU Adreno 203
Operating system Android OS, v4.1 (Jelly Bean)
Battery Li-Ion 1730 mAh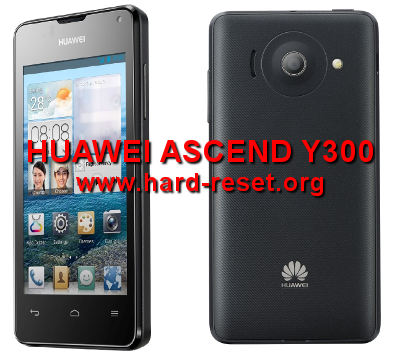 How to Fix or Problem Solving for Recovery HUAWEI ASCEND Y300 hang or not responding or malfunctions or stuck or freezing or bricked ?
HUAWEI ASCEND Y300 have dual-core 1Ghz processor, with this specification enough to run standard daily applications which can be download from Google Play Store. But some applications is not coding with good functions, this will make problem at HUAWEI ASCEND Y300 such as hang or stuck or bricks or frozen or LCD touch screen not responding. IF this problem happen then we can try to soft reset or restart or reboot HUAWEI ASCEND Y300 to delete temporary files and cache. If after doing soft reset the problem not away, we need to do hard reset or master format.
How to Soft Reset or Reboot or Restart HUAWEI ASCEND Y300 ? 
There are several way to soft reset, but the faster way to reboot is by removing the battery of HUAWEI ASCEND Y300.  After the HUAWEI ASCEND Y300 battery removed, you can plug it again in the right positions, after that you can try to turn on the HUAWEI ASCEND Y300 to reboot or soft reset. This step is safe, none of our important data will remove. Other way to restart or soft reset If the phone still can be access, and need to soft reset, try to press power button several seconds, until menu appear. Choose restart/reboot than the HUAWEI ASCEND Y300 will do the soft reset or restart. This is safe to do because all data or installed applications will not removed.
#Option 1, Hard Reset HUAWEI ASCEND Y300 with Software Menu :
Make sure the battery is charge properly
Turn on HUAWEI ASCEND Y300 smartphone
Don't forget to backup all important data
Go to menu: Setting > Backup & reset > Factory Data Reset > Reset Phone 
Choose Erase everything to continue and confirm you ready to do the format HUAWEI ASCEND Y300
The HUAWEI ASCEND Y300 will continue the step until ready to use in clean factory default.
#Option 2, Hard Reset HUAWEI ASCEND Y300 with Hardware Key Button :
Please make sure the battery is not empty
Turn of HUAWEI ASCEND Y300
Press and Hold together: Power Button + Volume Up Button for several seconds
Follow the menu at LCD screen to continue the hard reset HUAWEI ASCEND Y300, use Volume Down or Volume Up button to moving, and press Power Button to Ok or Enter or Confirm
#Option 3, Hard Reset HUAWEI ASCEND Y300 with MicroSD card Firmware Update:
Make sure the battery if fully charge
Turn off the HUAWEI ASCEND Y300
Remove the MicroSD and connect to computer or PC
Download firmware from computer browser http://www.huaweidevice.com.
Choose the HUAWEI ASCEND Y300 support and download the same version of firmware or update firmware
Extract the downloaded folder, and copy all folder (include folder) into main root location of MicroSD
Insert again the MicroSD to HUAWEI ASCEND Y300
Turn on Phone together with press and hold Power + Volume Up + Volume Down button until the Android logo appear
Wait the process of update or reinstall the firmware will be less then 10 minutes.
How to Restore and Reinstall Clean Android Operating system / firmware at HUAWEI ASCEND Y300 ?
HUAWEI ASCEND Y300 using Android Jelly Bean as default operating system. In some situations maybe we need to do restore or reinstall the operating system with default Android or firmware. When we need to do reinstall, this step is easy because the default and clean factory setting Android os already saved inside HUAWEI ASCEND Y300. If you need to reinstall just follow the step above, then the clean operating system will be reinstalling by itself. Please remember, doing reinstall or restore the Android operating system at HUAWEI ASCEND Y300 will delete or wipe any important data and applications, better you do backup first before do this step.
How to Unlock or Fix or Bypass or Solutions for HUAWEI ASCEND Y300 forgot password code or security lock screen pattern or pin (lost password)?
For security protection at HUAWEI ASCEND Y300, we can choose several options, but we recommend to use screen lock pattern or password pin protections. How about if we forget about the answer of that protections? Do not worry, because Android at HUAWEI ASCEND Y300 will give you solutions if you forget the password by pressing Forget Password / Pattern button to bring us answer the Google account username and password. If we can not access Google account then we have to do hard reset or master format.
How to Improve Performance HUAWEI ASCEND Y300 to make run more faster?
With the good specification, the HUAWEI ASCEND Y300 will run without problem for daily usage, but is some situations, user have problem and feel that the HUAWEI ASCEND Y300 become slowly. After see at the phone, that problem usually happen becuase we have installed many applications and run in the background. When that applications need to update or run several applications process will make the HUAWEI ASCEND Y300 processor work more hard and make it become slow until that job finish. That is why, to make HUAWEI ASCEND Y300 performance back to faster again, we recommend to uninstall not use applications. If we need to make it clean, do the hard reset step, then the HUAWEI ASCEND Y300 will back to faster again like new.
Is That Any Secret Code for Doing Format HUAWEI ASCEND Y300 ?
There is no secret hidden code for HUAWEI ASCEND Y300 to make it back to factory default. Do the options above to hard reset it.
How to Upgrade or Update HUAWEI ASCEND Y300 to Android Kitkat or Android Lollipop ?
Unfortunately there are no Android Kitkat update officially from Huawei. Android Lollipop also not available at HUAWEI ASCEND Y300. However, using factory default Android Jelly Bean at this phone still give good performance. Maybe we can find some not official custom rom operating system for HUAWEI ASCEND Y300, but please becareful when updating with non standard steps, because some wrong conditions can make our phone broken or corrupt and can not use anymore.
How to Improve Battery Life Longer of HUAWEI ASCEND Y300 For Solving Battery Drain Faster Problem (Battery Saving / Extent Battery Life)?
The maximum battery capacity at HUAWEI ASCEND Y300 is 1730 mAh, actually this is still fine to run for standard dialy acitivty, but in average we will need to charge twice a day. We can prolong the battery life by reducing some item like set the LCD brightness as low as possible and do not active auto brightness. Please turn off some not use connection like Bluetooth / Wifi / GPS. If possible, try to reduce the LCD brightness as low as possible. HUAWEI ASCEND Y300 to run using 2G GSM Internet data network, but this will give slower data speed then using 3G, just choose this options if we still need more battery power without charger.
How to Deal with Insufficient Internal Memory at HUAWEI ASCEND Y300 (not enough memory) ?
With only 4 GB internet memory capacity at HUAWEI ASCEND Y300, we will get limited size to install additional applications from Google Play Store. Although the specification said we get 4 GB internal memory, but at the first time we use this phone, we will get almost half of it, because internal memory also use for installing operating system and some other factory default applications. Please choose only important applications from Google Play Store. Please note, our HUAWEI ASCEND Y300 Internal memory will also insufficient because some applications like Facebook or Whatsapp or BBM or Twitter also will use internal memory to save their data, therefore after use several moment, our internal memory will be insufficient.
Latest hard-reset.org Discussions & Share Information:
[Q] I have encountered an "encryption unsuccessful" message requiring me to do a factory reset of my Huawei Y301A2 phone. Using the power + volume up buttons I get a "mount data fail" and a reboot returns me to the original encryption unsuccessful message.
Ideally I seek a tool that allows me to USB plug my phone into my computer. Such that the tool scans the phone and based on the scan results the tool will handle the entire factory reset process???
If no such tool exist, any alternative suggestions are greatly appreciated.
[A] Hi, you should try to reformat your Huawei Ascend Y300 using microSD flashing data like steps at #option 3 above. You should download Huawei Y300 data first from Huawei Mobile website and choose the correct version, then follow steps at #Option 3 above to reformat your Huawei Ascend Y300 operating system to factory default.

[Q] I fed up wid my huawei ascend y300..bcz..evertime its showing "unfortunately huawei input method has stoped" and othr apps are has stopped..like dis..wot can u do? Pls help me!!
[A] Hi, usually the problems like this happen because some applications crash and make trouble or make corrupt your Huawei Ascend Y300 os. Please backup all important data, then try to do hard reset to reformat your Huawei Ascend Y300 operating system to factory default, after format finish, you have to setup again your Huawei Ascend Y300 like new or like the first time using this phone.

The information from this page describe about huawei y300 hard reset,huawei ascend y300 hard reset,hard reset huawei y300,how to format huawei y300,huawei y300 secret codes,how to hard reset huawei y300,how to reset huawei y300,huawei y300-0100 hard reset,how to hard reset HUAWEI Y300-0100,huawei y300-0151 hard reset. If you need another resource for hard reset, use search function at this homepage or find from our related posts.