Tips and tricks to solve some troubles of WHATSAPP applications. What is Whatsapp? This is the popular chat applications in the world. It have many interesting features and always developing with latest and new features to make more capabilities. At beginning, basic Whatsapp features are for Personal and Group Chat or multiple devices, and now they have more interesting features for each services.
Common Whatsapp Issues:
Why Whatsapp Backup Restore Not Working?
These are some common causes, but please make sure we follow all steps bellow to restore our Whatsapp chat history from previous backup:
First, we need to make sure all data history already backup properly (follow Backup & Restore Whatsapp Easily steps bellow)
If we want to restore from local storage, make sure we already copy previous msgstore.db.crypt12 to folder Internal Storage\Whatsapp\Databases
Download Whatsapp Applications
After finish installed on our phone, continue Accept the Agreement
We need to use same phone number, because Whatsapp will keep our data secure by protect restoring data using same phone number
Whatsapp need some time verifying our account and check our Cloud Backup or Local Backup databases
If Whatsapp found the backup, then we will see Backup found on our screen
We have to choose RESTORE, otherwise we will be able to restore previous data again later
Whatsapp need some time to restoring data
Finish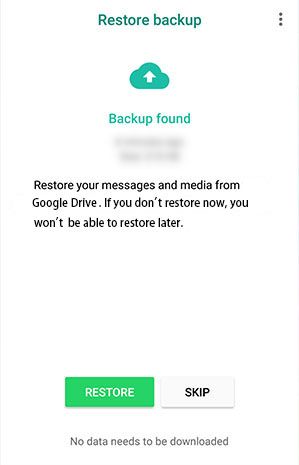 Note, This article will give more information about :

How to Easily Install Whatsapp at Phone & Computer
How to Backup & Restore Whatsapp with safety procedure
Where Can We Install WHATSAPP Applications ?
WHATSAPP initially design for Android, iOS, Windows Phone, Symbian. But now only latest version of operating system can work with Whatsapp, therefore we have to upgrade our smartphone if we still use old version one or when we get incompatible version. We can also use WHATSAPP from smartphone and computer together.
How to Install WHATSAPP at computer ?
We can use WHATSAPP from computer, this is what we really like from this apps, we do not need to install any additional applications to chat from our computer. Just use latest update browser from our computer such as Google Chrome or Mozilla Firefox or Microsoft Edge or Apple Safari then we can use almost all features from this chatting applications. We do not need to worry about our personal computer (pc) operating system, because it can run smoothly at iOS iMac, Microsoft Windows and Linux/Ubuntu. But we still have activate the WHATSAPP from smartphone before it can run from computer, the chat content will synchronize automatically between computer and smartphone.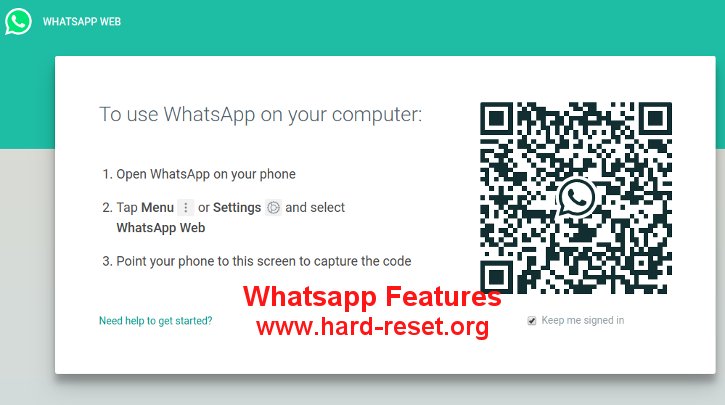 Computer and smartphone need to work together for Whatsapp Web. To make this steps easy to follow, we will give color differences for step by step procedure bellow. Red is for computer steps and Blue is for Smartphone steps.
Please do this steps to run WHATSAPP from our computer and smartphone:
At computer: Turn on Internet Browser (Chrome, Firefox, Safari, Edge, Opera, etc) and browse to URL https://web.whatsapp.com/ then it will show QR Code at Computer Browser screen

At smartphone: Turn on WHATSAPP  (Android, iPhone, Windows Phone, etc)

At smartphone: From WHATSAPP menu, please choose WhatsApp Web 
At smartphone: From WhatsApp Web menu, we can add connection and our phone will ask to scan QR code from computer browser (as write at steps 1). Make sure our smartphone camera can capture/photo/scan QR Barcode which located at computer browser screen

At computer: After finish scan the QR Barcode, then we will see WhatsApp Web at computer browser and show all of our contact and chat history
Whatever we type either from computer browser or WHATSAPP apps from smartphone, each device will sync chat content automatically.
Backup & Restore Whatsapp Easily
How to Simply Backup and Restore WHATSAPP Chatting History and WHATSAPP Contact ?
First we have to know that all WHATSAPP contact will sync automatically with our phonebook or smartphone contact, therefore as far as our phonebook data correct, then WHATSAPP contact will show at our devices. At this time, there are two options to backup our WHATSAPP chat history data:
Backup and Restore WHATSAPP data at local storage
Backup and Restore WHATSAPP data at cloud storage
Performing hard reset or master format of our smartphone (Android or iPhone) will make all chat data wipe/remove as well. Therefore we have to backup all data safely. WHATSAPP by default will do daily backup automatically at 2.00 AM – 4.00 AM everyday. The auto backup time may different at other WHATSAPP versions. It will create files at local storage. At Android smartphone, we can find WHATSAPP local files at folder /Whatsapp/Databases/ folder. Chat backup files are encrypted safely but media files (pictures / movie) from chatting are not encrypted at /Whatsapp/Media/ folder.
How to Backup and Restore WHATSAPP data at Cloud Storage.
When we use WHATSAPP Android, then we can backup and restore all data to Google Drive. When we use iPhone, then the data will be backup to iCloud. All Cloud Backup will follow the free storage availability from each account. If our cloud storage capacity are full, then WHATSAPP backup will not work.
Please make sure our WHATSAPP Backup Cloud Storage is work from this menu
Open WHATSAPP at our smartphone
Go to WHATSAPP menu > Settings > Chats > Chat backup
Make sure our Good Drive or iCloud backup is setup properly from this screen.
If we want to force backup, then press BACK UP button and wait until backup process finish
By default Backup to Cloud storage only work when Wifi is connected, but we can change from this menu for backup at any connection. Go to WHATSAPP menu > Settings > Chats > Chat backup > Back up over: choose Wi-fi and Wifi or cellular
How to Restore WHATSAPP cloud backup to our Android or iPhone ?
WHATSAPP try to give easy process to restore from cloud storage. When we have done hard reset or master format or having new smartphone. We need to sign-in with our Google account or iCloud account. Then follow these steps:
Turn of smartphone
Download WHATSAPP apps from Google Play Store or App Store
Register our phone number at WHATSAPP apps
It will automatically find the cloud backup which related to steps no.2
WHATSAPP will ask to restore once it find cloud backup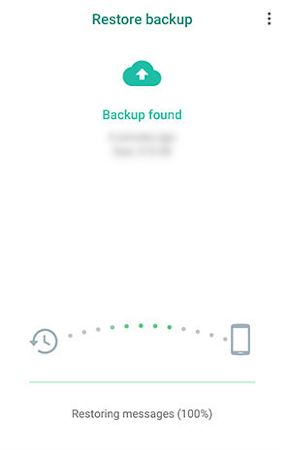 How to Restore WHATSAPP local files  to our Android ?
These steps are tricky for some conditions, because we need to copy old backup files and put at new Android internal storage /Whatsapp/Databases/. Then follow these steps :
Download WHATSAPP apps from Google Play Store
Register our phone number at WHATSAPP apps
WHATSAPP will ask to restore local storage backup when it find backup files at /Whatsapp/Databases/ internal folder.
New Update for Android Whatsapp Backup to Google Drive Is Unlimited
When we make this information, Whatsapp and Google have new agreement that all Whatsapp users who backup their chat and photo video to Google Drive will not count together with personal storage limit (usually by default we will get 15 GB free storage for all Google data including email, files and some other more), therefore if we have many group chat and photos/videos which need to backup to Google Drive, will get unlimited backup storage as long as that user use Android smartphone. Please note, for all users who never connect to Google Drive for Backup the Whatsapp within 1 year, then the backup data will be remove from Google Drive server automatically.
FAQ of Whatsapp Backup & Restore:
Why Whatsapp Not Restoring Backup?

This problems can be happen because several causes. First, because we are not using the same phone  number, because Whatsapp use phone number to keep our backup or restore work. Second, maybe we never backup any data either at cloud backup or offline backup at storage, therefore Whatsapp will not restore any backup files to our Whatsapp. Whatsapp restore not working at our phone.
MORE NEW FUNCTIONS UPDATE at WHATSAPP:
New Dark Mode at Whatsapp:
How to Use Dark Mode at Whatsapp ?
Please check that our Whatsapp version is above 2.20.30+. Not all user can use this functions because Whatsapp roll it out gradually base on version and country release. We can check it out inside Whatsapp menu:
Open Whatsapp applications
Click at Settings menu
Click Chats
Click Theme
Activate Dark
Finish and our Whatsapp is ready to use with Dark mode
Please note, all information above will get some different steps or procedure depend on WHATSAPP version. Because this apps always get new upgrade for improve some features.