Tips and tricks to fix HP ELITE X3 Microsoft Windows 10 smartphone. We can call this phone with phablet because it have 6 inches or 5.96 inches LCD screen width. Smaller then 7 inches tablet but already big enough to do office work with this phablet or smartphone. If we need dual simcard smartphone, then HP ELITE X3 also have options product which have double simcard slot for GSM-GSM, both product model use nano simcard type.  Find more review and solutions when HP ELITE X3 get several trouble at www.hard-reset.org community.
How to Master Reset HP ELITE X3 to Factory Default ?
After doing soft reset, maybe our smartphone still have problem or act not normal. Some problem can make the operating system damage and need to be fix by doing hard reset or master format. Please follow this several option step bellow:
#Option 1, How to Hard Reset HP ELITE X3 with Setting Menu:
Please remember to backup your important data before doing the hard reset to factory default, because all data and installed applications will be erased.
Turn on the HP ELITE X3
Make sure the battery is fully charge or not empty
Go to menu: Setting > About > Reset Your Phone
The process of formatting HP ELITE X3 will do by it self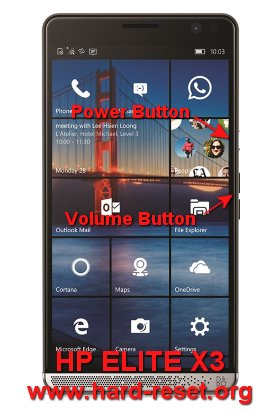 #Option 2, How to Hard Reset HP ELITE X3 with Hardware Button Key:
Now we have other option to hard reset or format HP ELITE X3 with hardware key button especially when the phone stuck or can not access to menu :
A. BIG STEP ONE:
Please remember, we have to do two BIG STEP, do it step by step
Turn off the HP ELITE X3
BIG STEP ONE (a). Press and Hold the Power Button, do not release until the phone vibrate (if you feel the vibrate in HP ELITE X3 then release the Power Button)
BIG STEP ONE (b). Press and Hold the Volume Down Button, do not release until the LCD show the exclamation mark (if you see the exclamation mark in LCD, then release the Volume Down Button)
B. BIG STEP TWO (this can be done after all BIG STEP ONE finish)
To continue reset, you have to do the last step bellow
Press Volume Up Button Key and release
Press Volume Down Button Key and release
Press Power Button Key and release
Press Volume Down Button Key and release
The HP ELITE X3 will do the hard reset format, wait about three until five minutes. While waiting you will see the gear appear until it finish.
Please remember, you have to follow the step From BIG STEP A until BIG STEP B by sequence.
How to Make Battery of HP ELITE X3 Stronger, Life Longer and Not Fast to Drain ?
Phablet with 6 inches LCD screen need bigger battery more then only 3000 mAh, therefore HP ELITE X3 use Li-Ion 4150 mAh battery capacity. It is good enough because HP ELITE X3 which use Microsoft Windows 10 operating system is ideal for business or professional users who need to do many work at their smartphone. However, if we still want to make battery HP ELITE X3 work more longer, then try to do some adjustment like make screen brightness as low as possible, it can help to reduce battery consumption.