Nokia E5 is qwerty smartphone with Symbian operating system, it use Symbian OS v9.3, Series 60 rel. 3.2 version. This is non touch screen phone, but it face full qwerty that makes use of these Nokia E5 become more fun to work every day.
The Main Advantage of Nokia E5 Specifications:
GSM 3G – HSDPA
LCD 2.36 inch
Full Qwerty Keyboard
Operating System Symbian OS v9.3, Series 60 rel. 3.2
Main camera 5 MP, 2592 x 1944 pixels, fixed-focus, LED flash
Internal Memory 250 MB
RAM 256 MB
Processor 600 MHz ARM 11
Battery Li-Ion 1200 mAh (BL-4D)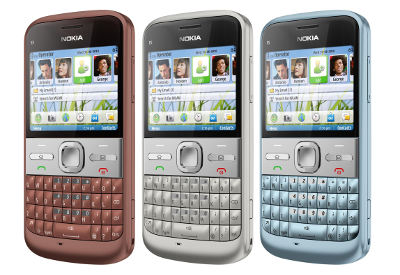 How to Solved Nokia E5 Problem Hang or Stuck or Freezing ?
Nokia E5 using good operating system Symbian Series 60 which already known have good stability to do hard work. But some time we will get problem with Nokia E5, maybe because of applications or other reason. Of course hang problem or not responding will make Nokia E5 hand to use. We suggest to do soft reset or reboot Nokia E5. If Nokia E5 still get the same problem, better to try flash or hard reset Nokia E5.
How to Soft Reset Nokia E5 with Secret Security Code:
First think that you can try while Nokia E5 got problem or work slowly or not normal, then try to do soft reset. Soft Reset Nokia E5 will not delete any data which already saved in this phone. Nokia E5 will only restore the setting to default and every data will safe. Press *#7780# with dial pad to Soft Reset Nokia E5.
#Option 1, Hard Reset Nokia E5 with Software Menu:
Turn On Nokia E5
Go to Menu:  Menu > Ctrl. panel > Settings and General >Factory settings
Nokia E5 will ask the default security lock code is: 12345
Please remember, Format Factory Default Nokia E5 will erase or wipe all important data
#Option 2, Hard Reset Nokia E5 with Hardware Button Combinations Key:
Make sure you already backup all important data at Nokia E5
Always better to make Nokia E5 battery full charge
Turn Off Nokia E5
Press and hold together: * button + 3 button + Green button (Call Button) for several seconds
The process will do format to factory default Nokia E5
#Option 3, Hard Reset Nokia E5 with Secret Security Code:
Make Sure Nokia E5 battery is not empty and charge properly
Turn on Nokia E5
Press at Dial pad: *#7370# and wait
Nokia E5 will ask for default security code, enter: 12345
Nokai E5 will do format to factory default
What to do if I forgot or Lost Nokia E5 Default Security Code or Password?
By default, Nokia security code for doing hard reset with dial pad is 12345, if you forget or you ever replace or make changes to security code, then you have to bring Nokia E5  to the nearest authorize service center.
How to Flash and Restore Nokia E5 easily?
If you have problem with Nokai E5, you can try to do soft reset and if the problem still at your Nokia E5, then continue with doing hard reset or format to factory default with some options step above.
Help for Slow Respon Nokia E5, How to Make Nokia E5 Run Faster?
Some applications or wrong setting could make Nokia E5 become slowly. To make Nokia E5 run more faster and powerful, then you have to try doing Soft Reset to make all setting back to default. You can find how to do Soft Reset above.
How Install Whatsapp and BBM at Nokia E5 ?
Whatsapp can be install easily at Nokia E5, try to go to http://www.whatsapp.com/nokia/ download the sis file from that website, and run downloaded file at Nokia E5. Whatsapp can run properly at Nokia E5 because this application available for Symbian operating system version S60. What about BBM? Unfortunately until we write this information, Blackberry Messenger still does not have application for Symbian. The Blackberry Messenger only available at latest Nokia with Windows Phone operating system.
Latest hard-reset.org Discussions & Share Information:
[Q] Haw to restor nokia e5 bucase ovi store and facebook are not warking please help me
[A] Hi, we assume that your Nokia E5 still can boot and start properly. Please try to do hard reset or reformat to factory default your Nokia E5 operating system using Menu Setting like steps at #option 1. Usually it will restore back all setting and applications like new or like when the first time open from the box.

[Q] sir i am having problem with my keypad..the key ''full stop and comma''dosen't working..to give full stop i have to long press ''?'' sign..and to type comma i have to long press ''@''..even there is a short mark on the top of the cursor while typing messege..how can i solve this problem??
[A] Hi, first we will suspect that this problems comes from software. Therefore you need to do hard reset or reformat your Nokia E5. If still can not work, then maybe the hardware get troubles. At this time you need to consult with nearest Nokia authorized service center.

The information from this page describe about how to format nokia e5,nokia e5 hard reset,How to hard reset nokia e5,hard reset nokia e5,how to flash nokia e5,how to reset nokia e5,nokia e5 reset code,nokia e5 format code,nokia e5 hard reset code,nokia e5 hard reset key combination. If you need another resource for hard reset, use search function at this homepage or find from our related posts.