What is the best free antivirus for our Android devices? This is the most important question for anyone who do not understand about how to choose good antivirus. Actually there are many free Antivirus at Google Play Store, some of them are free. But we have to be careful before download antivirus, because sometime they are disguised as real antivirus, but actually they are fake antivirus.
Therefore we want to give safe list of recommended antivirus that we can download from Google Play Store. We will renew this information periodically to make it always update for anyone of us. The most important think before we go with Antivirus is knowing the company behind that apps.
Norton Mobile Security & Antivirus Protection Review
Norton is one of mature antivirus company at computer world. Many company use Norton to protect their computer and system network using Norton product. Norton also available at Android device to secure all users from viruses or some other threat. We can use Free Norton Mobile Security & Antivirus Protections forever. Of course they also have premium features but free is enough. These are some features that we can get from Free Norton Mobile Security & Antivirus Protections:
Protect our Android device from antivirus. When we want to download new applications, Norton antivirus will try to scan the applications and search at their database to make sure that new apps is not contain malware or viruses or spyware with proactive antivirus protection.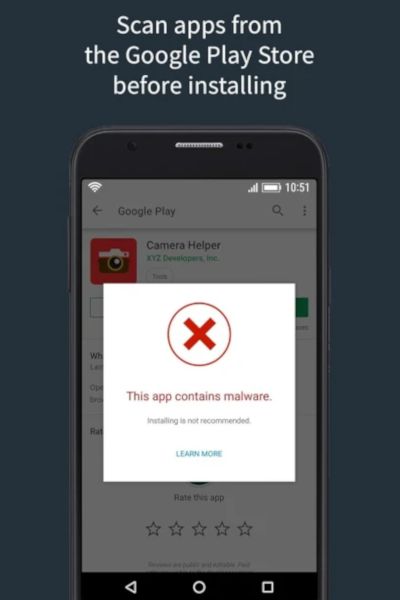 Wifi security protections. There are many free wifi connections near us. But some of them may have unsecure connections that can steal our important data or password when login or access important website. Free Norton Mobile Security & Antivirus Protections will give notification if we are want to connect at unsecure connections. But at this free version, Norton will not detect any data which transfer at unsecure wifi connections (if we force to connect to unsecure Wifi network).
Safe Search is available at Free Norton Mobile Security & Antivirus Protections. It will protect us while searching something. Norton will connect to Symantec's global threat database and tell us when some suspected search result appear at our Android search result.
We also can block unwanted call or spam or junk call using Free Norton Mobile Security & Antivirus Protections. There are many unwanted call try to advertise by make phone call to many number, some users fell disturbed. With this applications, we can easily block that number.
There are also some other features like Lost and Stolen Phone Protection to track our device and more at premium services, but we can stay to use free version without any troubles.
Free Norton Mobile Security & Antivirus Protections can be download from Google Play Store. For anyone who never install Norton apps before, we will get 30 days free all service from Norton Mobile Security & Antivirus Protections without adding any credit card or other payment procedure. After 30 days, we can keep using all free features to make our Android smartphone safe and secure for daily activity.
Do I Need To Install Antivirus For Android ?
The short answer is yes if our phone have sufficient storage and RAM. RAM is the most important features for Antivirus, because this apps will keep run in the background to detect whether our Android smartphone will get troubles with viruses or malware or spyware. This is what we call proactive protections. However, if our smartphone does not have enough RAM, then we suggest to ignore Antivirus applications at our smartphone, otherwise our Android will become slowly.
What is the minimum recommended RAM For Install Antivirus at Android ?
When we make this information, there are many smartphone have more then 3 GB RAM. Actually each antivirus will need different RAM, but base by our experience, we are not recommended to install any antivirus if our Android applications smartphone only have 1 GB RAM, because now almost all applications need bigger RAM. If our Android RAM is insufficient, then our phone will automatically force close not use applications, but if we want to run it again, the Android smartphone will load from beginning.
How Dangerous Android Without Antivirus Applications ?
Antivirus can help us to protect our Android smartphone from installing bad applications which have viruses or malware or spyware. It is also protect us from search or connect with malicious website. Therefore if we are kind of active users who like to test or install new applications at our big RAM Android smartphone, then we are recommended to install antivirus. We suggest to read as many users review as possible if
Warning : Do Not Install Fake Antivirus From Other Website Beside Google Play Store
Because there are many website especially malicious website will tell us with danger icon and some strange warning sound which say our Android has been infected with virus, and they will guide us to download and install free antivirus APK. Mostly this is fake antivirus. By installing that fake antivirus, we will open the door for installing other malware applications without permission at our Android.
If you have more question for antivirus troubles, feel free to white the comment bellow.