Please be careful when install Pokemon Go to our smartphone or tablet because some users report their Android damage or get problems after install Pokemon Go. Problems may happen when we install Pokemon Go games from non safe resources.
How to Install Safe POKEMON GO applications ?
At the first time release, Niantic did not open for all country, therefore at this time some users at blocked country will try to download from non official website like offline APK or other applications store. There are some many users get trouble because some bad applications try to act like official APK  Pokemon Go, but infact they are not the real one. If anyone install that kind of apps, then we will get any trouble like hang or get many new automatic installed applications that we never install them before.
Always install Pokemon Go from official Google Play Store, because we can find safe applications. But again, there are also some not offical Pokemon Go applications that we will see from Google Play Store list when we search Pokemon Go name, like tutorial of Pokemon or something related with that games, but actually not the real games.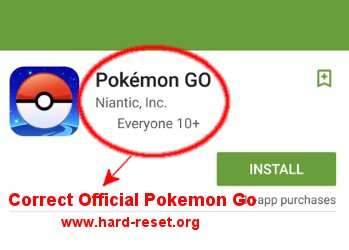 How to Install Safe Pokemon Go at Android or iPhone / iPad ?
Go to Android Play Store for Android or iTune Apps Store for iPhone or iPad
Search Pokemon Go
We will see many Pokemon Go related applications list, but please find correct one with right developer name Niantic Inc
Continue Install Pokemon Go from Niatic Inc 
Finish and ready to play safe official Pokemon Go from your Android or iPhone without worry
As reported that almost all smartphone can run without problems for official Pokemon go at Samsung, Sony, Xiaomi, Nexus, Acer, Huawei, LG, Motorola, Lenovo, Asus, Oppo, HTC and many more. Just follow the correct steps above to ignore installing Pokemon Go that contain viruses or malware.
What should we do If our Android or iPhone get problems because POKEMON GO Game / Applications ? 
The community of www.hard-reset.org will give tips and tricks to fix Android or iPhone when get trouble after installed POKEMON GO. We can try to do soft reset or the worst case is doing hard reset or reformat the operating system of our smartphone or tablet. Please use Search field to find solutions for trouble smartphone base by brand or name.